Using Automated Pipelines to Streamline Your Recruitment Process
You're short on time and you've just received a large number of applications for the job you just advertised. You're not sure how you will be able to effectively review each candidate's application. Sound familiar?
If you're collecting applications for a job using the Criteria platform, you can create automations that place candidates who do or don't meet the role requirements into specific pipeline stages.
By setting up some simple rules you can automatically progress candidates through the application process. There's a little more work required to set up automations for applications, but once you have the foundations in place, you'll save yourself and your team significant amounts of time. You can also re-use job applications and filters for future jobs. Here's how.
Click here to download a pdf version of this guide.
Application form filters
Before adding automation rules to the application form in your job, you'll need to create some qualification or disqualification filters. These can only be created once your application form has been set up. Click here to learn how to create an application form.
A qualification filter will "screen in" candidates and will automatically move those who meet the requirements to the next stage in the pipeline. For example, you want to automatically progress candidates who have a required qualification.
A disqualification filter will "screen out" candidates and will automatically move those who are disqualified to a "Not Hired" pipeline stage. For example, you want to automatically disqualify candidates who aren't eligible to work in your country.
Note that you can add either qualification or disqualification filters to a job. You cannot have both set up in your automated pipeline simultaneously. (If a candidate triggered both the qualification and disqualification filters, the system will not know which to prioritise and therefore would not know which action to take for the candidate.)
Click here to learn more about creating application form filters.
Adding automation rules to your job
Once your application form and filters are ready, ensure that you have an appropriate pipeline created for your job. Click here to learn how to create a pipeline.
Create your job, using the pipeline and application form with the associated filters you set up earlier. Click here to learn how to create a job.
On the Jobs screen, click More Actions to the right of your job and select "Edit" from the dropdown. If you have the job open, click the settings wheel in the top right corner.
In the Candidate Management section, click "Edit" for Pipelines and Automation.

To set up the automation rule – so that candidates who meet the qualification rule requirements are moved to the Testing stage - select the pipeline stage that contains the job application. Click "Modify".

Select "Application", then "Add a Rule".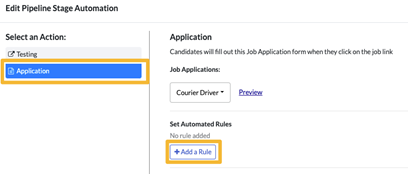 Add your rule. In this example, we've added a rule that says if a candidate is qualified (i.e. meets the requirements set up in the qualification filter), they will move to the Testing stage.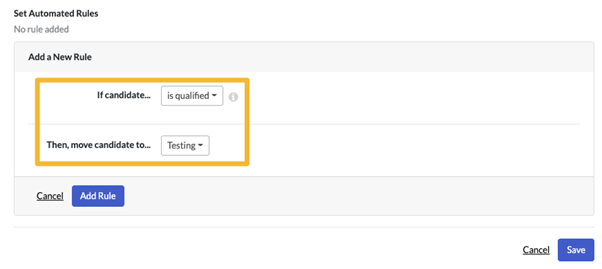 Select "Add Rule", then "Save" to exit. You'll see that the pipeline stage with the automation rule added now has an automation icon displayed.

Notes
You can add multiple automation rules to a pipeline. For example, if you're collecting applications, you could have a rule that moves qualified (or disqualified) candidates to a specific stage, and then another rule that moves candidates whose assessment results fall within a selected score range to a second round of testing or an interview stage.
When creating application automation rules, you also have the option to create a rule that moves candidates to a specific pipeline stage once their application is submitted. You can use this rule on its own to move all applicants to a particular stage, or in conjunction with a qualification or disqualification rule.

You can use a qualification rule and a submitted application rule to move candidates who meet all of the qualification requirements to one pipeline stage, and everyone else to a different pipeline stage as shown below.

Similarly, you can also use a disqualification rule and a submitted application rule to move candidates who are disqualified to one pipeline stage, and everyone else to a different pipeline stage. The disqualification rule will always be applied first, since if a candidate is disqualified based on their application responses, they won't be considered to have successfully submitted their application. 
Add automation to the testing stage
When your candidates complete testing and their results fall within a specific score range, you can automatically move them to another stage in your pipeline.
Follow the steps above to edit the pipeline in your job. Click "Modify" in the testing stage.

You will see which assessments are attached to the job and their associated score ranges. If you haven't added a score range to one or more assessments, you can do it now.
Select the relevant assessments, and which stage of the pipeline you'd like to move candidates that meet the score ranges to. In the example below, candidates whose results fall within the score range for Cognify and EPP assessments will automatically move to the Phone Screen pipeline stage.

Select "Add Rule", then "Save" to exit the window. When you return to the pipeline stages screen, you'll see an icon next to any pipeline stages that have automations associated.

Notes
Before setting up your rule, you should ensure that you've edited your pipeline to send the appropriate notifications or email templates when candidates they move to the selected pipeline stage, and any delays you want to apply (e.g., delay sending an email or invitation for 12, 24 or 48 hours). You can do this by going to "Job settings" and clicking "Edit" in the Pipelines & Automation section.
Because you can have testing at multiple pipeline stages, you can set up automation rules for each stage that includes testing.
Related Articles
Filter Candidates by Application Responses
---
---