Cognify | Revelian Platform
Cognify is a next-generation psychometric assessment, which uses a game-based approach to measure a number of abilities and skills that have strong links to job performance. These include measuring a candidate's problem-solving and numerical reasoning abilities, and their verbal knowledge.
Cognify is a device-agnostic assessment, which means that candidates can complete it on any device they choose: laptop, tablet, mobile phone etc.
Cognify overview video
Measure cognitive ability

Assess attributes critical to every role: problem solving, numerical reasoning and verbal knowledge.

Predict performance

Results from Cognify allow you to predict how candidates will perform on the job.

Six mini-games

There's no questions part of Cognify - we gather deep insights through candidates' game performance.

Time

It will take candidates approximately 30 minutes to complete all six mini-games.
Request a demo
You can try the assessment for yourself. Simply request a demo here.
Please note: Demos are un-scored and a report will not be generated.
Cognify training
Watch our consulting psych led Cognify assessment training video to learn everything from what Cognify predicts and measures to understanding your report to what the candidate experiences when completing the assessment.
Defining cognitive ability
Simply put, cognitive ability is an individual's ability to acquire, organise, recall and apply information. If you think about it, many workplace behaviours hinge on these abilities: evaluating, considering, learning, acquiring, retaining, organising, adapting and applying information all inform the way a person performs at work.
The image below gives you some examples of how a person's cognitive ability contributes to their behaviour at work.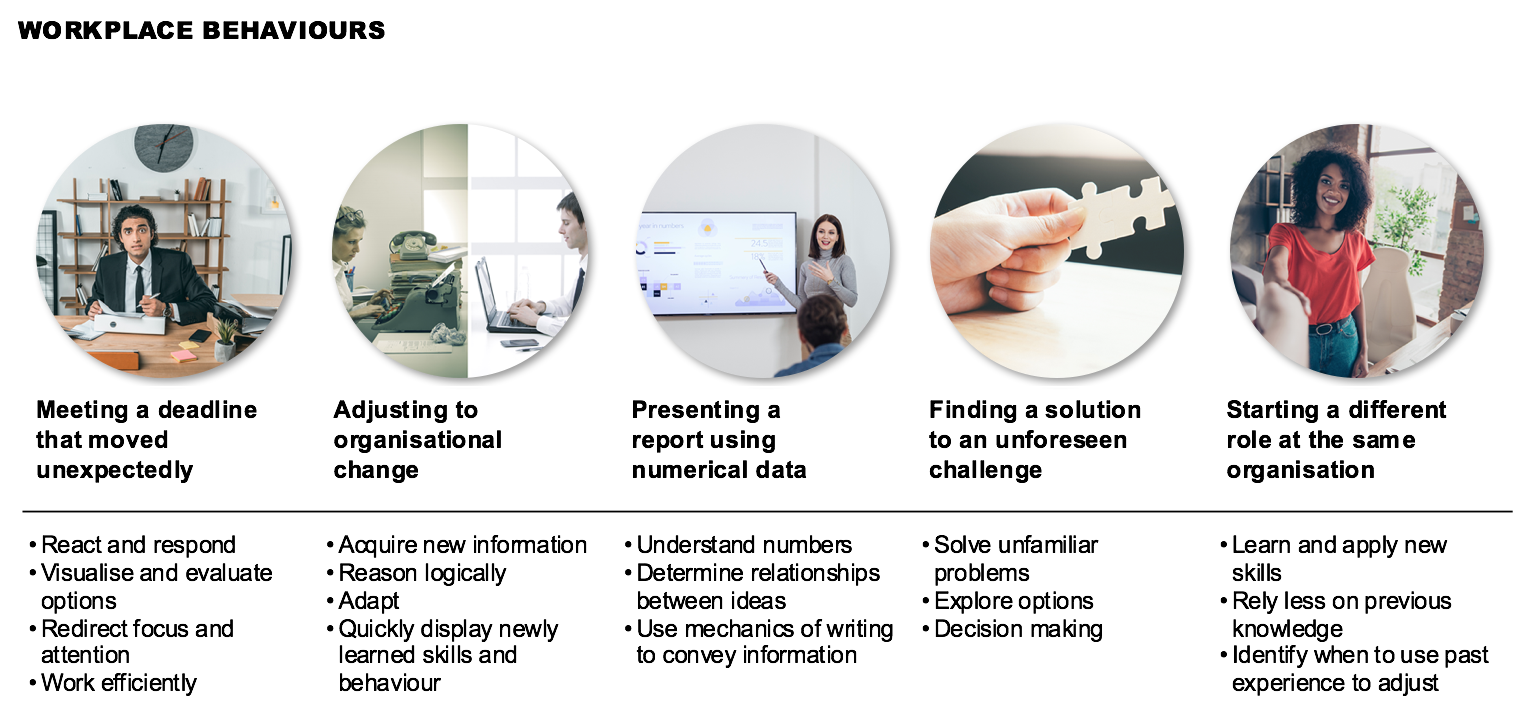 Business impacts
At its most basic, an employee's level of cognitive ability will impact how they perform at work, which has a number of different impacts on your organisation. As shown below, our clients have demonstrated improvements in critical business outcomes such as work performance, involuntary turnover, training outcomes and career progression.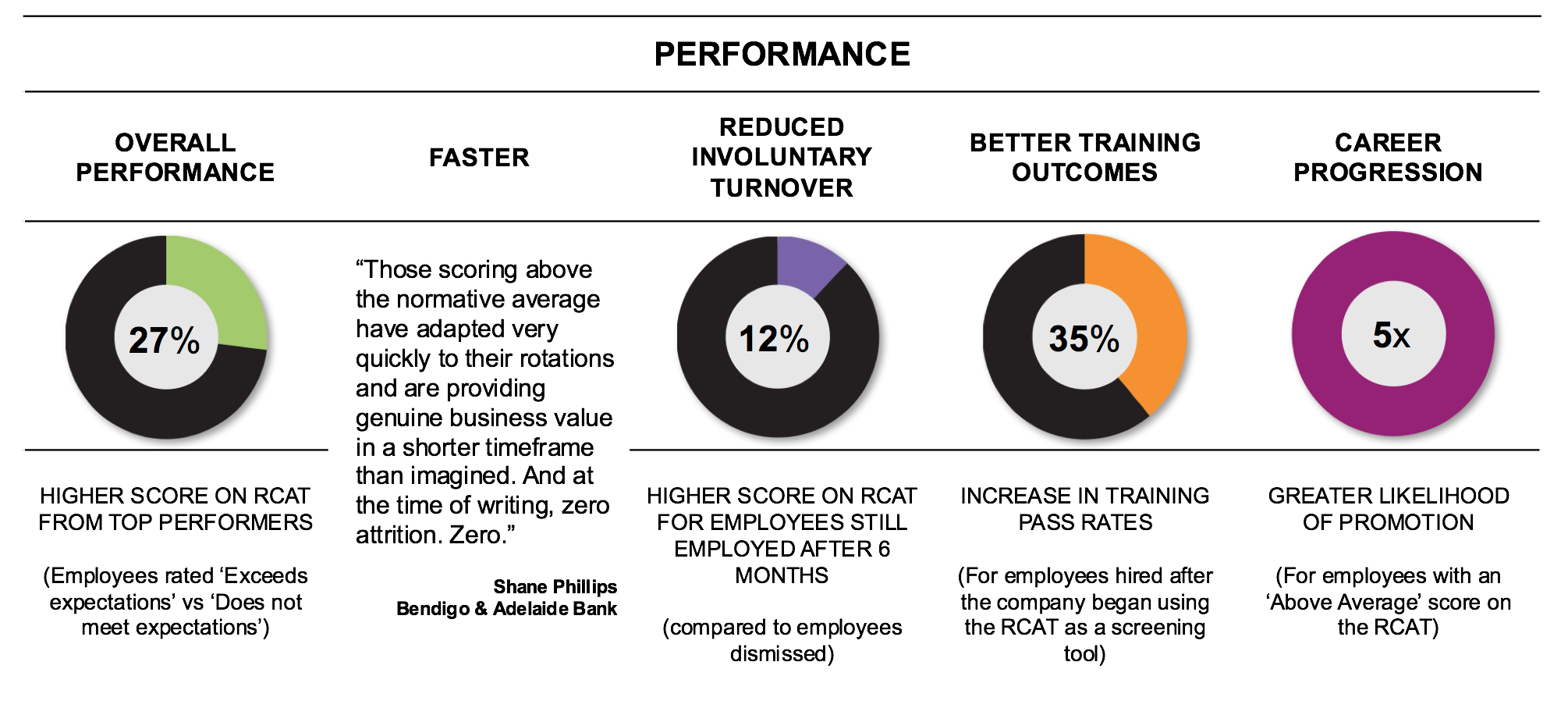 As Cognify is a recently released assessment, we're currently collecting data to present further case studies about its business impact. The case studies referenced above used the Revelian Cognitive Ability Test (RCAT) to assess cognitive ability. You can view these case studies here:
Case study: telecommunications provider predicts performance of call centre staff
Case study: federal regulatory authority predicts job performance and career advancement
Case study: Bendigo and Adelaide Bank reduces unconscious bias and makes high-calibre hires
Case study: Aviation company greatly improves training pass rates
Case study: Emergency services provider reduces compensation claims and sick days
The following case studies include Cognify:
Case study: Professional services firm improves critical recruitment metrics
Case study: SafeSelect predicts risk of future violent behaviour
Meta-analysis of selection methods
In 1998, Frank Schmidt and John Hunter analysed numerous studies that examined the effectiveness of different selection methods. They found that cognitive ability tests were on a par with structured interviews in terms of their predictive validity - that is, their ability to predict future work performance (column 2 below). When combined with other selection methods such as structured interviews or other tests, they provided the best overall predictor of performance at work (column 3 below).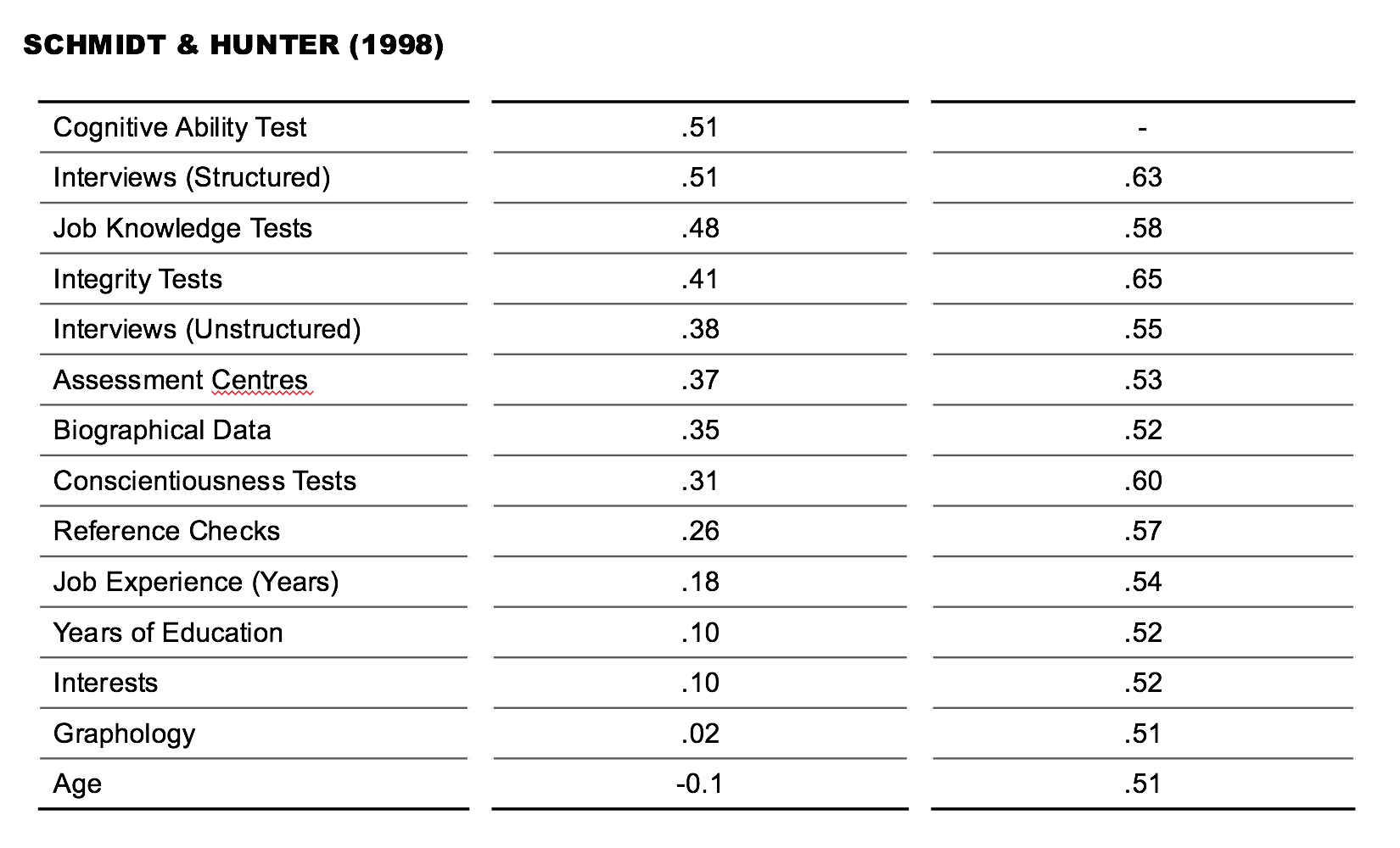 The Cattell, Horn and Carroll (CHC) theory of intelligence
The predictors of employee performance measures by Cognify align closely with the Cattell, Horn and Carroll (CHC) model of human intelligence. The CHC model is widely regarded as the most influential theory in the study of human intelligence. Based on a large body of research spanning over 70 years, the model was developed using a psychometric approach. While the full model broadly encompasses a large variety of abilities related to human intelligence, Cognify targets more specific psychological characteristics such as Fluid Reasoning, Reading & Writing and Quantitative Knowledge, that contribute strongly to General Intelligence (g).
The table below outlines the alignment of the CHC model to the broad abilities included in Cognify.

The candidate experience
Game-based assessment
Cognify merges game-design thinking with trusted and proven psychometric principles to give candidates a rich, immersive experience. Candidates find the experience more enjoyable and less stressful than a traditional psychometric assessment or test, and they can complete Cognify on mobile devices as well as desktops or laptops.
Games assessing problem solving
The games included in this category measure fluid reasoning and assess a candidate's ability to:
Learn quickly
Work under time pressure
Evaluate and consider information
Work with novel information
Think flexibly
Adapt to change
Focus and attend
Switch tasks
Recover from errors and mistakes.
Short Cuts
In Short Cuts (example below), the candidate needs to move the blue marble to the starred area. The aim is to do so as efficiently as possible for each puzzle. There are seven puzzles of increasing difficulty for candidates to progress through in a four minute time limit. Candidates who perform well are likely to have strong reasoning skills and sound quantitative knowledge.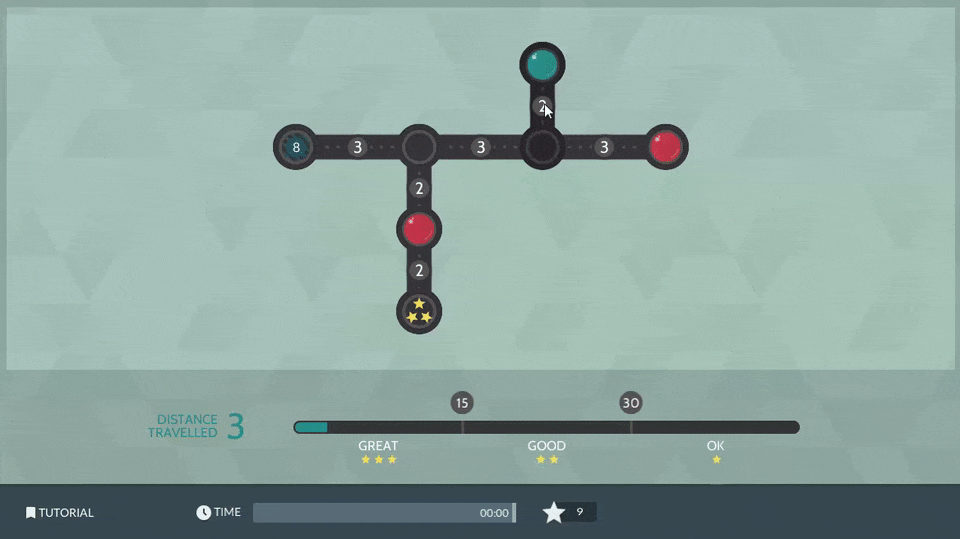 Grid Lock
In Grid Lock (example below), the candidate solves a succession of puzzles by fitting all of the pieces into the grid as quickly as they can. There are nine rounds of increasing difficulty with a time limit of three minutes. Top performers in this game are likely to have strong general and spatial reasoning skills.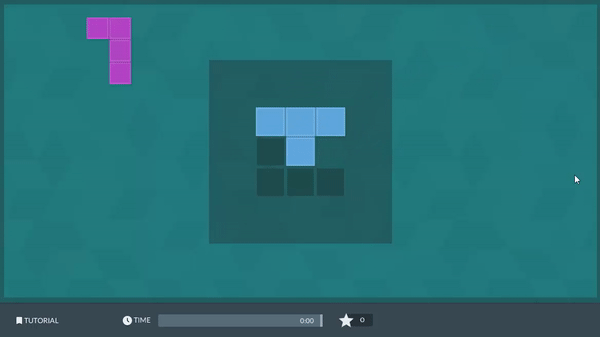 Resemble
In Resemble (example below), the candidate needs to mentally rotate the image on the left and then replicate it on the right.There are nine puzzles of increasing difficulty with a time limit of three minutes. As with Grid Lock, candidates who perform well on Resemble are likely to have strong general and spatial reasoning skills.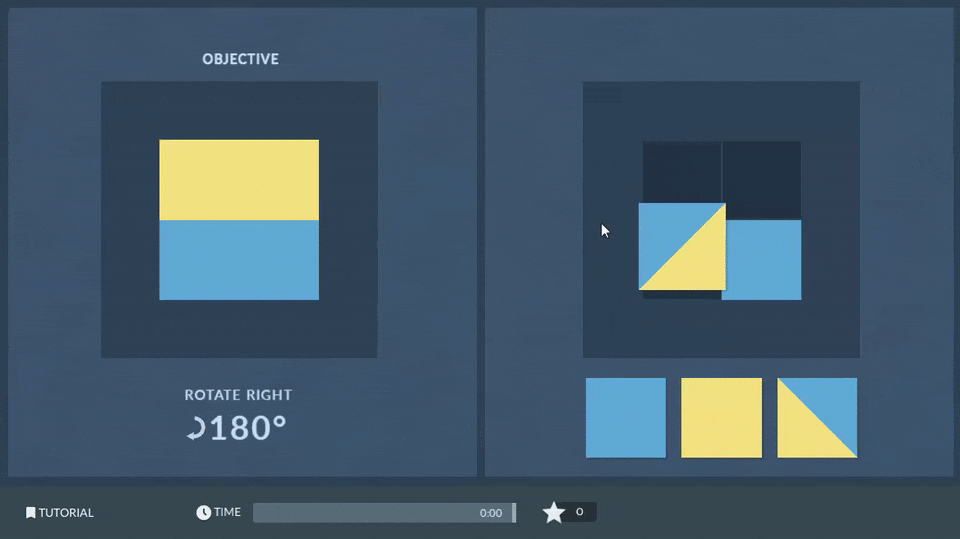 Games assessing numerical reasoning
The games in this category measure how well a candidate comprehends quantitative and numerical concepts. This includes the ability to:
Learn quickly
Solve mathematical problems under time pressure
Evaluate and consider numerical information
Think flexibly
Adapt to change
Focus and attend
Switch tasks
Recover from errors and mistakes.
Numbubbles
In Numbubbles (example below), the candidate is given a target number, and needs to identify and pop the bubbles containing an equation that equals the target. They need to do this as quickly and accurately as they can. There are ten rounds of increasing difficulty with a total time limit of just under three minutes. High performers are likely to have strong quantitative and fluid reasoning skills.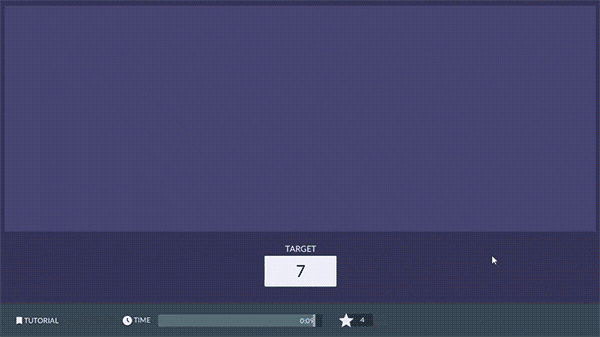 Tally Up
In Tally Up (example below), the candidate needs to quickly identify which group of tokens has the highest value. There are 35 rounds of varying difficulty with a total time limit of just under two minutes. Candidates who do well are likely to have strong fluid and quantitative reasoning skills.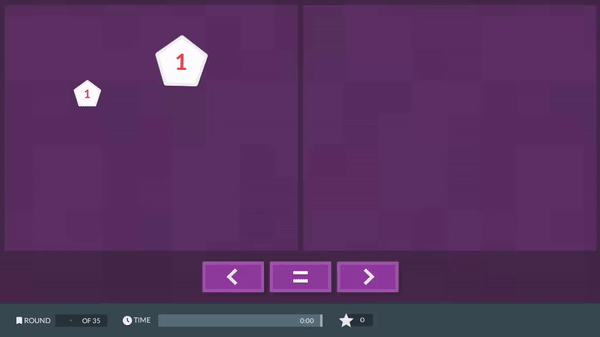 Game assessing verbal knowledge
Verbal knowledge refers to a candidate's breadth of knowledge and ability regarding written language. In particular, this refers to skills such as spelling, grammar and identifying errors in text. This includes the ability to:
Demonstrate strong reading and writing skills
Demonstrate attention to detail under time pressure
Be able to extract meaning from text
Work efficiently (i.e. speed and accuracy)
Recover from errors and mistakes.
Proof It
In Proof It (example below), the candidate must identify as many misspelled words and punctuation errors as possible in the time provided. There are five rounds that the candidate moves through in a five minute time limit. Candidates who do well on this assessment are likely to demonstrate strong reading and writing skills.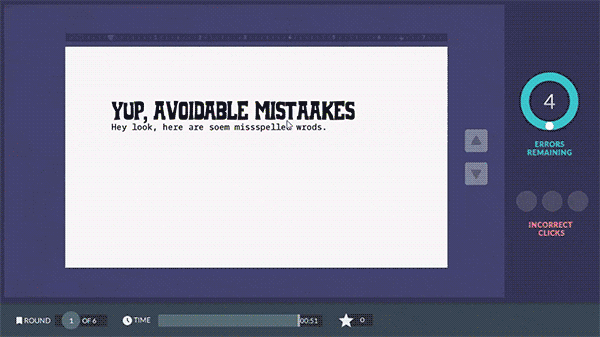 Scoring
Once candidates complete Cognify, their raw score across all games is compared to one or more normative comparison groups to provide you with percentile scores, which indicate how their scores compare to those of the selected normative groups.

Normative comparison groups
Depending on your configuration, you may be able to compare your candidates to one or more of the following normative groups:
General population - individuals from a broad range of industries and management levels
Industry - at the time of writing (July 2019) there are four industry groups available for Cognify: accounting & finance, call centre, clerical & administration and public service - general
Management level - at the time of writing (July 2019), a graduate group is available for Cognify
Company benchmark - a benchmark of your own employees, which can be selected from a specific department, location or role.
Reports
Individual report
You'll usually receive a candidate's Cognify report within around 10 minutes of them completing the assessment. Depending on you configuration, you may receive a summary version of the report (which includes a link to the full version) or the full version of the report. The content below refers to the full version.
Position report
You may also receive an overall position report that allows you to compare all of your candidates' performance on the assessment.
Candidate feedback reports
Unless you specify otherwise, your candidates will receive a feedback report as soon as they complete the assessment. This report contains a high level overview of the candidate's cognitive ability score, but does not provide them with any information about how other candidates for the same position have performed.
Please don't provide copies of the individual or position reports to your candidates. They contain content, or links to content, about the performance of other candidates and how the candidate ranks against them, so it's not appropriate to provide this information to candidates. The only report that is suitable for candidates to view is the feedback report, which they'll receive automatically once they complete the assessment.
Scoring (individual report)
The individual candidate report will include several sets of results. For each of these results, the candidate's scores will be compared to the relevant normative groups and placed into a classification ranging from Far Below Average to Far Above Average.
Overall score
In the example below, the candidate's overall score exceeds 81% of the General Population (AU) normative comparison group, and can be considered Above Average.

Broad ability score
This score indicates the candidate's level of ability in one of the (up to three) abilities measured by Cognify and gives you a high-level understanding of how they compare to the normative group.

Game scores
You'll also see scores for each of the individual games the candidate has played, grouped under each broad ability.
Drawing meaningful insights
The graphic below helps you understand what kinds of behaviours you can expect from candidates based on their overall score on Cognify.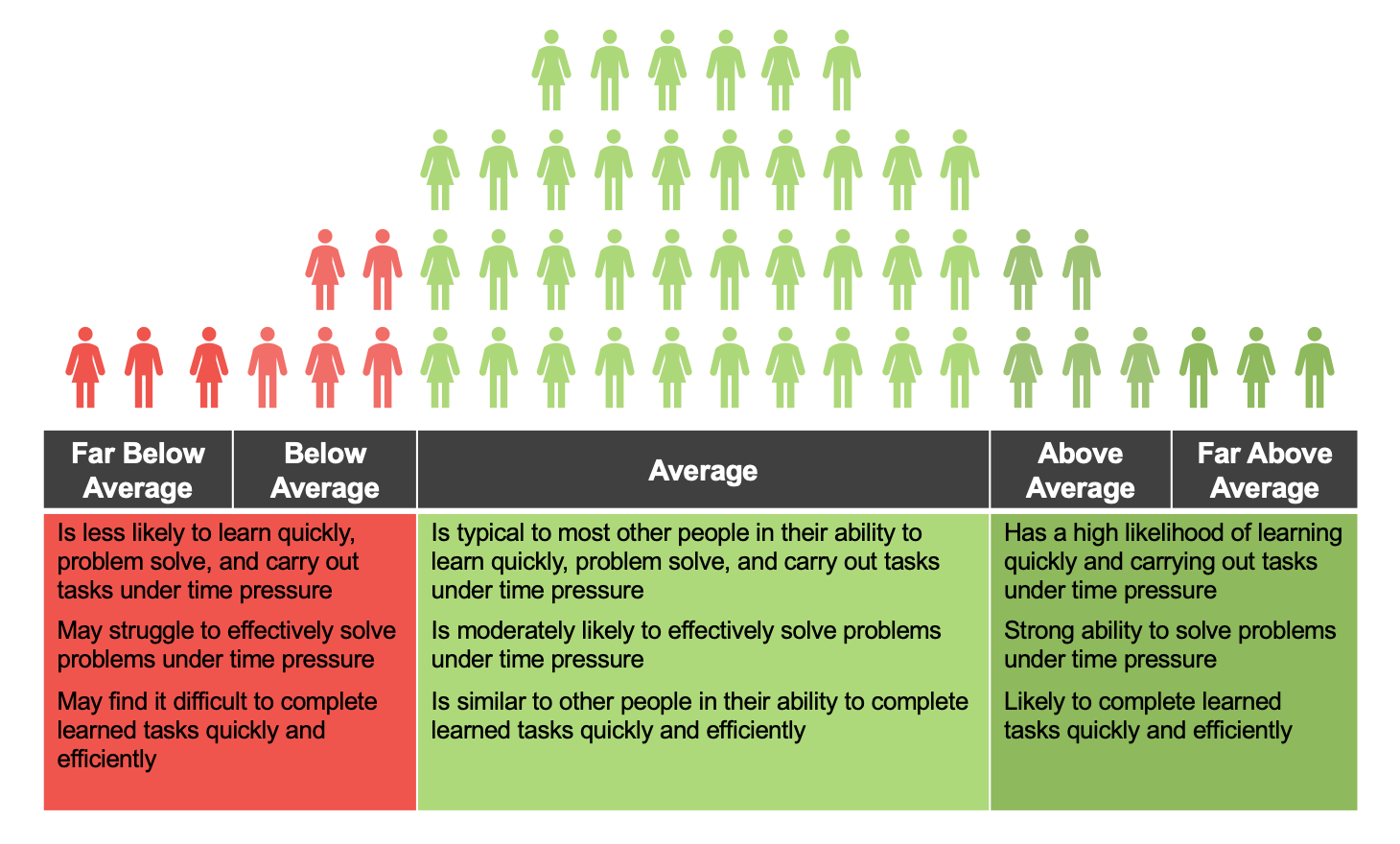 Considerations
Although assessments of this nature are accurate, a candidate's results may be influenced by such things as the environment in which the test was taken and their comfort with the assessment process. Therefore, the candidate's assessment score should be considered an approximation of their abilities and should be considered in conjunction with other information obtained during the recruitment process.
Additional Cognify resources
| | | | |
| --- | --- | --- | --- |
| | | | |
| | | | |
| | | | |
| | | | |
| | | | |
| Case study: professional services firm improves recruitment metrics with Revelian assessments | Case study: SafeSelect predicts risk of future violent behaviour in public utility employees | Case study: Digital marketing agency predicts the success of call centre employees | Case Study: Large Financial Institution discovers relationships between cognitive ability, emotional intelligence and recruitment process performance |
| | | | |
| | Comparing assessments: Cognify vs the Revelian Cognitive Ability Test | | |
---
---