Numerical Reasoning Test | Revelian Platform
The Revelian Numerical Reasoning Test (RNRT) is a traditional 12-minute timed assessment that measures numerical problem-solving skills.
Measure numerical reasoning ability

Assess the ability to understand numerical relationships and to reason using numbers.

Predict numerical aspects of job performance

Results from the Numerical Reasoning Test predict each candidate's capacity to effectively solve numerical problems.

25 questions

Candidates will complete up to 25 questions that will utilise their ability to accurately process numerical information.

Time

The Numerical Reasoning Test is timed and will take candidates 12 minutes to complete.
Request a demo
You can demo the assessment for yourself. Simply request a demo here.
Please note: Demos are un-scored and a report will not be generated.
Defining numerical reasoning
The RNRT measures a person's ability to understand numerical relationships and concepts and to reason using numbers. Numerical reasoning has strong links to job performance in a variety of roles – generally, any roles that require the ability to work with numbers and numerical concepts.
Why use the RNRT?
Numerical reasoning is especially important in jobs that require people to process large amounts of data, such as complex technical jobs and managerial roles. Numerical reasoning becomes more important as a predictor of job performance as the complexity of the job increases. However, even if you don't need an employee who can find the value of X in an algebraic equation, this test can help you differentiate your candidates in a valuable way.
The RNRT is an excellent predictor of job performance for a wide variety of positions. A person who achieves a high score in this assessment is more likely to:
Quickly grasp numerical concepts
Effectively solve problems using numerical information
Make sound, logical decisions involving numbers.
The candidate experience
The test has 25 questions and candidates have 12 minutes to complete as many questions as they can.
In the example question shown below, the candidate needs to determine the missing number in the series. Other questions ask them to make calculations, or identify patterns in numbers, and all questions become more difficult as the candidate progresses.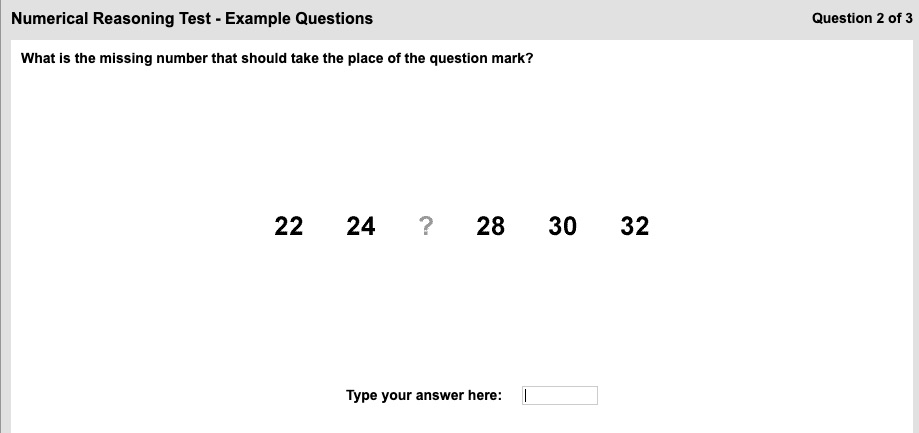 Scoring
Once candidates complete the RNRT, their raw score out of 25 is compared to one or more normative comparison groups to provide you with percentile scores, that indicate how their scores compare to those of the selected normative groups.

Normative comparison groups
Depending on your configuration, you may be able to compare your candidates to one or more of the following normative groups:
General population - individuals from a broad range of industries and management levels
Industry group - an accounting & finance group is available for the RNRT
Management level - a graduate group is available for the RNRT
Company benchmark - a benchmark of your own employees, which can be selected from a specific department, location or role.
Reports
Individual report
You'll usually receive a candidate's RNRT report within 10 minutes of them completing the assessment. Depending on your configuration, you may receive a summary version of the report (which includes a link to the full version) or the full version of the report. The content below refers to the full version.
Position report
You may also receive an overall position report that allows you to compare all of your candidates' performance on the assessment.
Feedback reports
Unless you specify otherwise, your candidates will receive a feedback report once they complete the RNRT, which gives them a very high level overview of their results. You can view an example candidate feedback report here.
Please don't provide copies of the individual or position reports to your candidates. They contain content, or links to content, about the performance of other candidates and how the candidate ranks against them, so it's not appropriate to provide this information to candidates. The only report that is suitable for candidates to view is the feedback report, which they may receive automatically once they complete the assessment.
Understanding the RNRT report
When a candidate completes the test, they'll get a raw score out of 25, which is then compared against other people who've also completed the test.
In the example below, the candidate has been compared against two different groups, which gives you a tiered perspective of their performance. Please note that the Employed Adults group is now called General Population.

Score verification
When a candidate is retested under supervised conditions for verification purposes, a 'V' will appear beside the candidate's score (as shown in Table 1 above). The verification test includes different questions, which were matched in format and difficulty to the questions in the original test that the candidate completed. This process is used to confirm the validity of the candidate's original test scores. If a candidate's score was confirmed when retested, then their original score is verified and retained in the report.
Considerations
Although numerical reasoning tests are accurate, a candidate's results may be influenced by such things as the environment in which the test was taken and their comfort with the testing process. Therefore, the candidate's test score should be considered as an approximation of their level of numerical reasoning ability.
It's also important to note that this assessment requires a year 10 level of Australian English. The results of candidates who do not possess a year 10 level of Australian English may be adversely affected by their English proficiency. In such cases, the candidate's score will reflect a combination of their English skills and numerical reasoning ability, and will not provide an accurate approximation of their level of numerical reasoning ability.
Additional RNRT resources
---
---