Work Reliability Scale | Revelian Platform
The Revelian Work Reliability Scale (RWRS) helps you to identify candidates with a high level of integrity, who are more likely to behave honesty and less likely to behave in counterproductive ways, or condone counterproductive behaviour in others. This includes assessing their attitudes to things such as fraud, theft and dishonesty at work. In turn, this helps you to reduce the business costs of unethical behaviour, such as shrinkage.
Measure integrity and reliability

Identify high-risk candidates with the propensity to engage in counterproductive behaviour.

Predict honest and ethical behaviour

Identify candidates who are less likely to condone counterproductive behaviour in others.

54 questions

Candidates view 54 statements and indicate the extent to which they agree or disagree with each.

Time

This assessment can be completed in 10 minutes.
Request a demo
You can try the assessment for yourself. Simply request a demo here.
Please note: Demos are un-scored and a report will not be generated.
Counterproductive behaviour at work
Employees have the opportunity to engage in a wide range of counterproductive behaviours at work, including: theft, dishonesty, fraudulent leave, sabotage, avoiding work.
These behaviours can be commonplace and expensive:
In the US supermarket sector, the average employee steals over $1,000 worth of cash and goods each year
Over 80% of workers in the US hospitality industry engage in some form of counterproductive behaviour on a weekly basis
85% of major fraud cases in Australia are committed by employees.
Defining reliability
Reliability is all about following procedures and complying with rules; being loyal and committed to the interest of the organisation; being honest in dealing with one's employer.
Most people have the opportunity to engage in counterproductive behaviour at work, and may also have desires they can fulfil by engaging in this kind of behaviour. When they also have attitudes and beliefs that enable this behaviour, it can lead to a high level of risk for the organisation.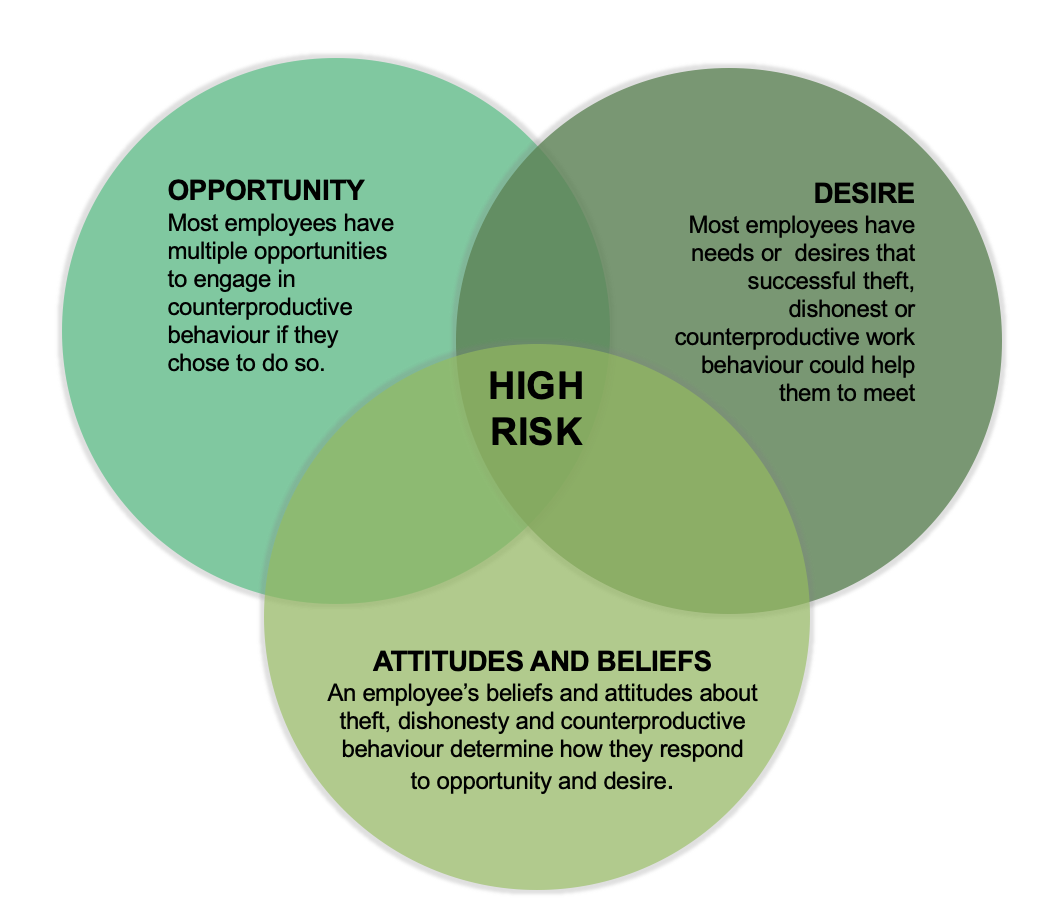 Business impacts
Hiring people with more strict attitudes towards counterproductive behaviours leads to a number of tangible benefits for employers, including:
Reduced theft and shrinkage
Reduced absenteeism and 'presenteeism'
Reduced unwarranted sick leave
Improved punctuality.
We conducted a study with a client and found that their level of reliability, as assessed by the RWSA, correlated with the amount of merchandise stolen over their tenure with the employer.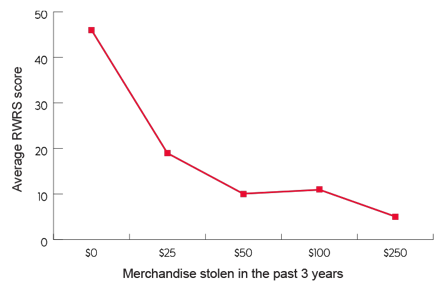 Case study: national retailer predicts employee theft with reliability and integrity assessment
Case study: emergency services provider reduces sick days and compensation claims
The candidate experience
The assessment measures an individual's attitudes and beliefs regarding a number of different areas of reliable and unreliable behaviour, including dishonesty, theft, cheating and rule following.
The questions asked by the RWRS don't just address how applicants view themselves;  it also examines self views and perceptions of others (that is, what "typical" or "normal" behaviour is for other people), as well as perceptions of the environment.  By considering responses across all three of these factors, we can derive a valid indicator of their level of reliability or integrity.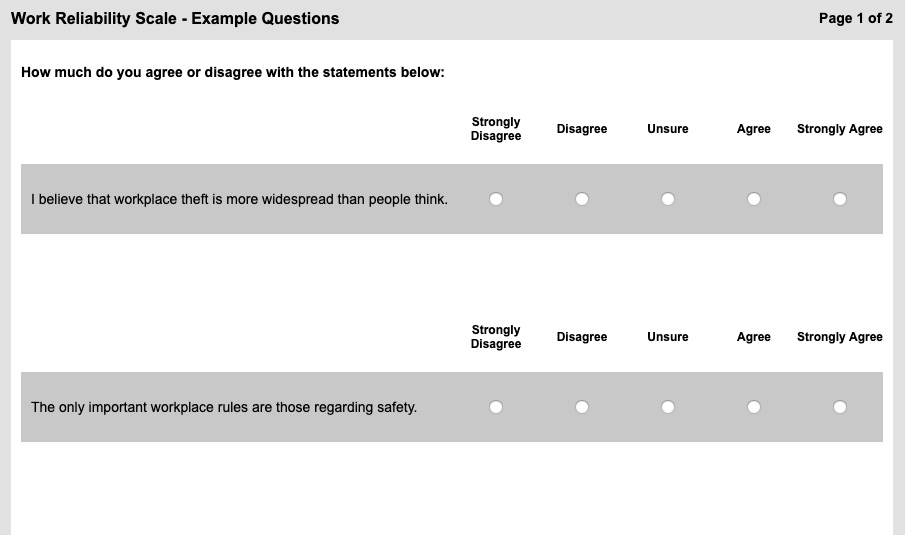 Scoring
Once candidates complete the RWRS, their raw score out of 54 is compared to one or more normative comparison groups to provide you with percentile scores, that indicate how their scores compare to those of the selected normative groups.

Normative comparison groups
Depending on your configuration, you may be able to compare your candidates to one or more of the following normative groups:
General population - individuals from a broad range of industries and management levels
Industry - includes groups such as accounting & finance, clerical & adminstration, HR, retail, sales and trades.
Management level - includes apprentices, graduate, entry-, mid- and senior-level management
Company benchmark - a benchmark of your own employees, which can be selected from a specific department, location or role.
You can view all of the available normative groups in the Assessment Information Brief.
Reports
Individual report
You'll usually receive a candidate's RWRS report within around 10 minutes of them completing the assessment. Depending on you configuration, you may receive a summary version of the report (which includes a link to the full version) or the full version of the report.
The content below refers to the full version of the individual report.
Position report
You may also receive an overall position report that allows you to compare all of your candidates' performance on the assessment.
Candidate feedback reports
Unless you specify otherwise, your candidates may receive a feedback report as soon as they complete the assessment. This report contains a high level overview of the candidate's reliability score, but does not provide them with any information about how other candidates for the same position have performed.
Please don't provide copies of the individual or position reports to your candidates. They contain content, or links to content, about the performance of other candidates and how the candidate ranks against them, so it's not appropriate to provide this information to candidates. The only report that is suitable for candidates to view is the feedback report, which they'll receive automatically once they complete the assessment.
Overall score (individual report)

The report shows the candidate's score as compared to the relevant normative groups, which is provided as a percentile and given a ranking from Far Below Average to Far Above Average.
Validity checks
Because the RWSA uses a self-report measure of reliability, candidates can be tempted to answer in the way they think is most suitable, or will give them a more positive result. To mitigate this, the assessment includes two in-built validity checks, that can alert you to inconsistent or overly positive responses. If a candidate achieves an invalid result on either check, they'll be invited automatically to complete the assessment again. In the rare case that they receive an invalid result again, this will be noted in the report and you'll be advised to interpret their results with strong caution, since the assessment can't accurately assess their safety behaviour.
Consistency check: checks for haphazard or inconsistent responses to ensure the candidate has understood the questions
Positive self-presentation check: identifies people who may have been deceptive when responding, or trying to present more positive image of their behaviour than is really the case.
Example showing invalid result for the positive-self-presentation check

Interview questions
If the candidate has responded in a way that might indicate a risk of unreliable behaviour, their report will also include some recommended interview questions, to help you further investigate potential risk areas.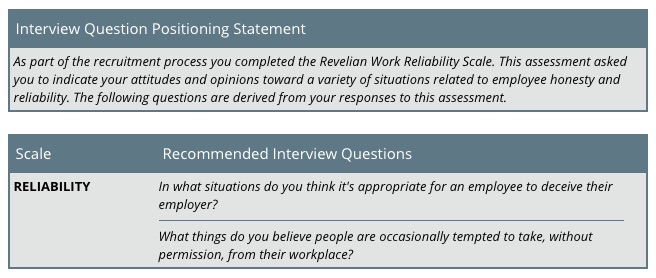 If the candidate has received an invalid result for one or more of the consistency checks, these questions will be geared around helping you to understand how the candidate felt when they were completing the assessment.
Drawing meaningful insights
The graphic below helps you understand what kinds of behaviours you can expect from candidates based on their score on the RWRS.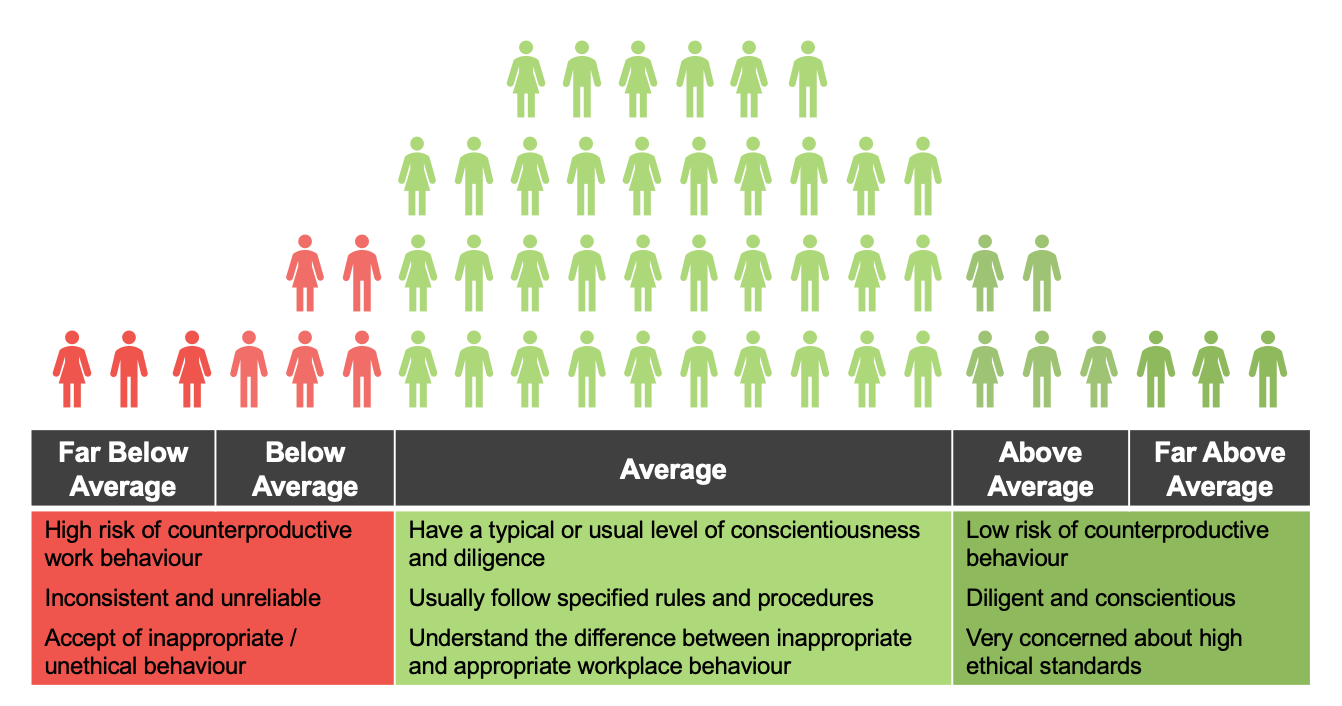 Considerations
It's important to understand that a measure of reliability can provide a useful indication of the type of behaviours an employee will exhibit; however there are other factors that also contribute to conduct and productivity. The job characteristics and working environment of the position should be considered in addition to each candidate's assessment results.
Additional RWRS resources
| | | | |
| --- | --- | --- | --- |
| | | | |
| | | | |
| | | | |
| | | | Case study: national retailer predicts employee theft with reliability and integrity assessment |
| | | | |
| Case study: emergency services provider reduces sick days and compensation claims | | | |
---
---