Receiving Candidate Summaries & Workplace Insights Reports with Score Reports
The Candidate Summary Report can be very helpful for making hiring decisions, particularly when you have a high volume of candidates. The Workplace Insights Report is an excellent supplement to the Score Report, such as to help you determine your post-hire plans for your new employees.
You've let us know that using the reports collectively is challenging. We've listened to your feedback and are happy to announce that your Criteria account can now be set up to send you all three* reports for each candidate as they complete testing.
Once set up, you will no longer need to log in to your Criteria account to view your candidates' assessment results! Simply create the job and invite your candidates to complete the assessments. You can then get on with other tasks while the system takes care of sending all the reports you need to your email.
* Note that the Workplace Insights Report is currently only available for some assessments.
How do I set this up?
To automatically receive the Score Report and Summary Reports for each candidate together in one email, log in to your Criteria account. In User Preferences, set your Notification Preference to "Send Me Score Reports". Save your changes.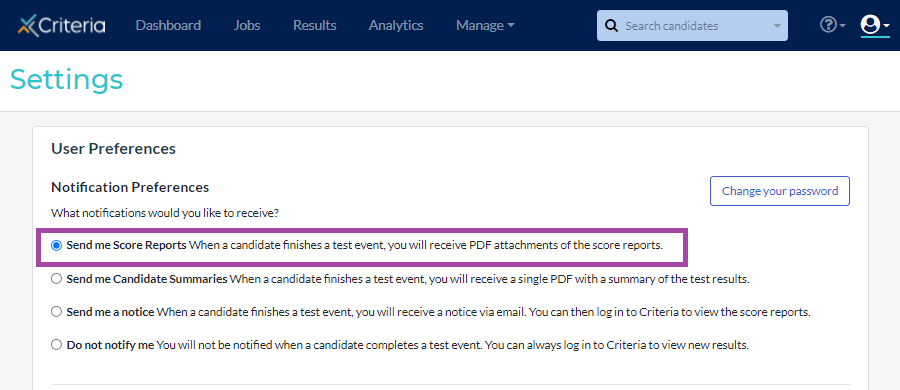 Click here to learn more about this process.
To have the Workplace Insights Reports included in the notification email, please contact your Customer Success Manager for assistance with this.
---
---