3 Adding Video Interviewing to a Job
This tool is available as an add-on to your subscription for all Professional or Enterprise customers. If you'd like more information, please contact your
Customer Success Manager
and we'll organise a demo for you. 
Before adding a video interview step to the pipeline in your job, there are a few tasks that need to be completed.
Creating a new job with a video interview stage
In your Criteria account, go to Dashboard or Jobs and click "Create a Job" in the top right corner.

Give your job a title and add an Internal Reference Name if required. Click "Next".

Select the test battery for the job and click "Select this Test Battery". Note that this step is required even if you do not intend to invite candidates to complete assessments as part of the recruitment process. (If this is the case, we recommend simply selecting the Criteria Recommended Test Battery here.)

Chose the pipeline to use for the job, then click "Finish Job Setup".

Click to close the Invite Candidates modal and return to the Job Settings screen.

Scroll down to One-way Video Interview and click "Add".

Fill out all fields to set up the video interview. Note that the Save button will not become available until all required fields are filled out.

Select your video interview template from the dropdown list.
Select which stage in the pipeline you want the video interview to occur in.

Video interview and assessments cannot be in the same pipeline stage so if you choose Incoming, this will remove the test battery from the job.
You can have both an application form and a video interview in the Incoming stage. Your candidates will be prompted to complete the video interview once they have submitted their application to you. You will be able to see their application responses as soon as they submit the form, even if they don't complete the video interview straight away.
We recommend using 2 or 3 assessments early on to measure aptitude, personality and (if required by the role) skills, Emotional Intelligence, and risk propensity. Based on their results, you can then prioritise which candidates are most likely to fit your requirements and invite them to complete a video interview.
Video interviewing cannot be added to the "Not Hired" stages of your pipeline.

Select each evaluator who will be reviewing the candidates' video responses. You can type their name to locate them if you have a large number of users.

To use any of the options to minimise bias, click the down arrow next to each evaluator's name to select these. (These are optional.)
1. Hide video: hide the candidates' videos
2. Hide Personal Details: hide the candidates' personal details
3. Disguise Voice: disguise the candidates' voices
4. Hide Feedback Messages: hide any feedback messages candidates have added to their video responses

Select the number of evaluations that are required to be completed before the candidate's video interview is considered evaluated. For example, if you select two, then two reviewers need to complete their evaluation of each candidate's video interview before their results become visible.
If you have set an expiry for invitations in the job, this will be used for video interview invitations also.

Click "Save". A confirmation message appears. Close this to return to the Job Settings screen.

This step should be completed if your job does not include an application form or assessments (that is, the only candidate event is a video interview), or you have select Video Interview for the Incoming stage of the pipeline. Scroll up to Candidate Experience and click "Edit" next to the Email section.

Select your custom video interview email template from the dropdown list and click "Save".

If you are conducting video interviews in the Incoming stage, you can add assessments to a later stage by going to Pipelines & Automation in your job's settings. Click "Edit".

Click "+" for the stage to update, then add the test battery. Don't forget to change the email template candidates are to be sent so they receive the correct email for this stage of the recruitment process. Save your changes.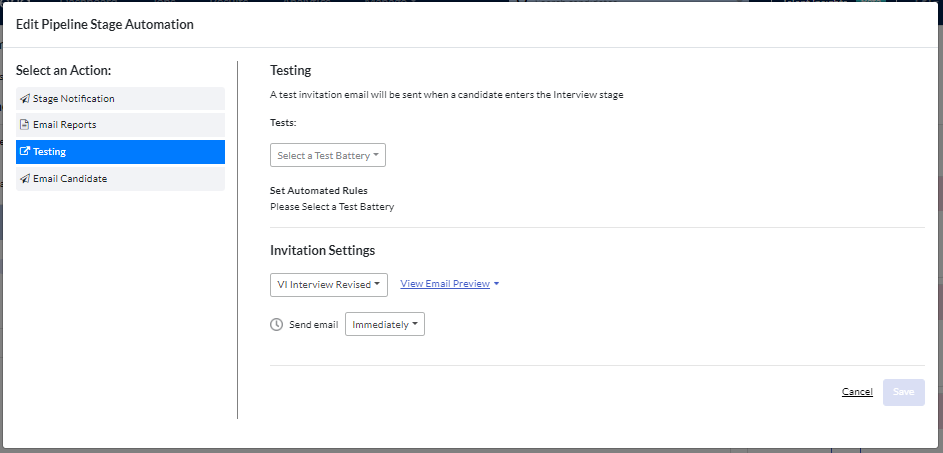 Add video interview step to an existing job
Once your video interview template is ready, go to the Jobs list in your Criteria account. Locate the job you are adding video interviewing to, click on ... More Actions and select "Edit" to open the Job Settings screen.

From here you can follow the steps listed above to update your job.
To make changes to a video interview already attached to the job, repeat the steps above to update the video interview settings. Click "Save" to ensure your changes are kept.
Next Step
Now that your job is set up, you are now ready to add and invite your candidates to complete the video interview. Click here to learn more.
Related Articles
1 Creating a Video Interview Template
2 Creating a Custom Email Template for Video Interviews
4 Inviting Candidates to Complete a Video Interview
---
---