Time adjustments for candidate testing
Like you, Criteria is committed to providing a fair and equitable recruitment process that enables you to uncover your candidates' potential and identify the best candidates for each job. This is why we are excited to announce that you can now set up assessments that have additional time for candidates who require a time adjustment.
If you'd like this feature enabled for your organisation, please contact us and we'll be happy to help.
Who can set up time adjusted assessments?
Any Criteria users who can schedule testing will be able to select assessments with a time adjustment.
What has changed in the workflow?
Once we have enabled this option for your Criteria account, when you invite a candidate to complete testing, you will have the option to add time to the assessment.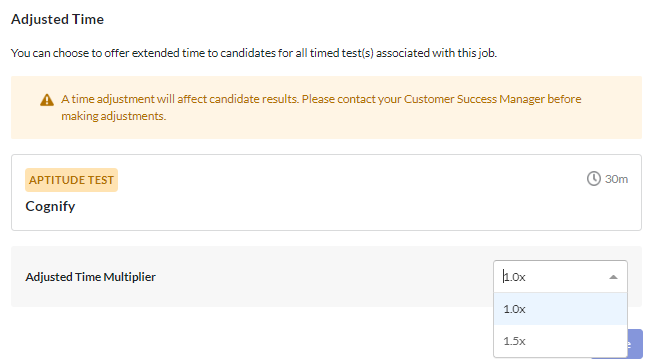 Additional time can be added when you first invite the candidate to complete the assessment or, if they request an accommodation later, you can update their invitation afterwards.
Why is it valuable?
Self-service accommodations - once we have enabled this for your account at the company level, you will be able to choose to administer extended time versions of tests without involvement from Criteria. 
All candidates for a job in one place - whether a candidate has required an accommodation or not, they will be in the same job. Time adjustments are now applied at the candidate invitation level.
Reporting - there is a new column called Time Adjustment so you can see which candidates have completed assessments with time adjustments.
How can I learn more?
Click here to view our How To Guide for Making Time Adjustments to Accommodate Accessibility Needs.
---
---