Cognitive Ability Test | Revelian Platform
The Revelian Cognitive Ability Test (RCAT) is a traditional, 20 minute timed assessment that measures problem-solving skills and predicts future work performance.
Measure cognitive ability

Assess general cognitive ability - also known as general mental ability (GMA) or aptitude.

Predict performance

Predict how well someone will acquire, organise, retain and apply information on the job.

51 Questions

Candidates complete up to 51 verbal, numerical and abstract reasoning questions.

Time

The Cognitive Ability Test is timed and takes 20 minutes to complete.
Request a demo
You can try the assessment for yourself. Simply request a demo here.
Please note: Demos are un-scored and a report will not be generated.
Defining cognitive ability
Cognitive ability is a person's ability to acquire, organise, recall and apply information. It involves evaluating, considering, learning, acquiring, retaining, organising and adapting. People have higher cognitive ability are more likely to perform better at work. 
Common workplace behaviours that require cognitive ability include: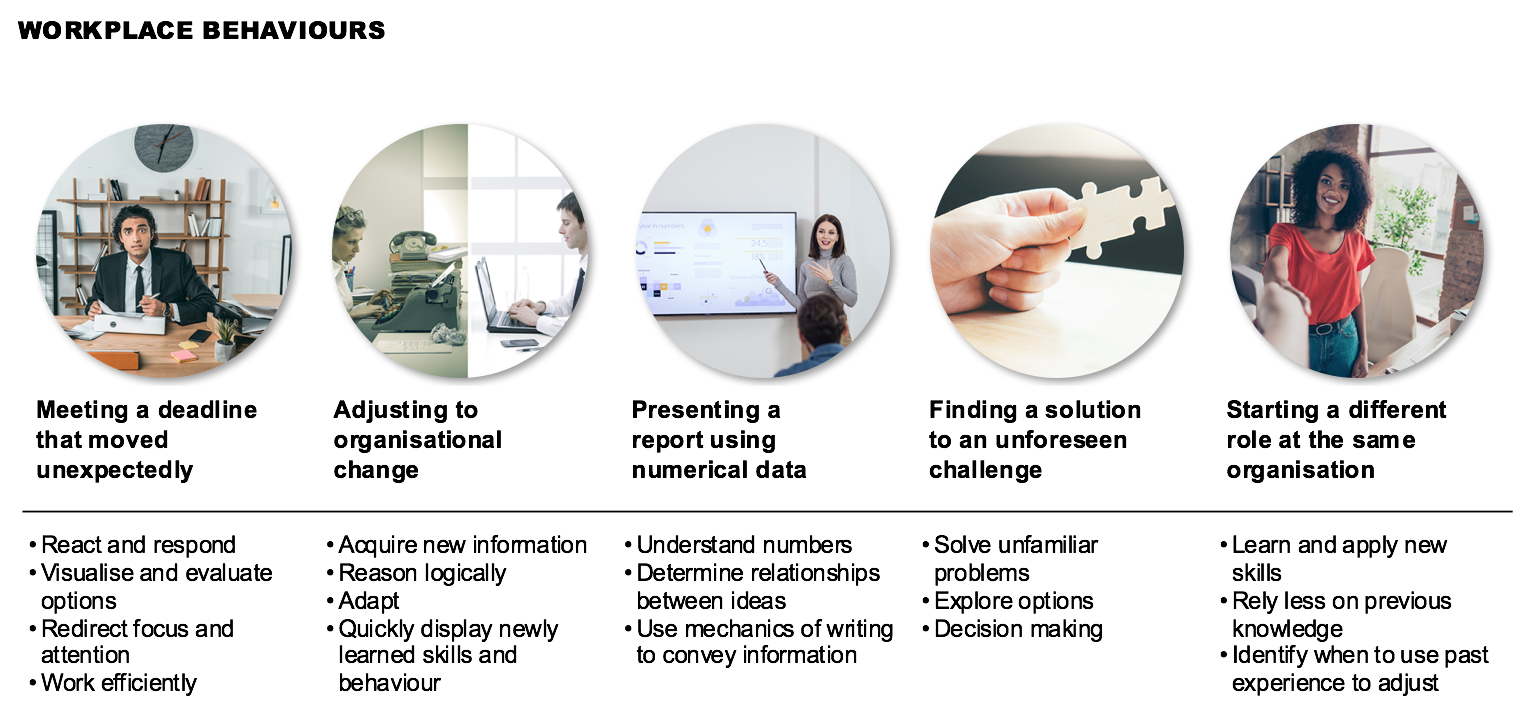 Business impacts
At its most basic, an employee's level of cognitive ability will impact how they perform at work, which has a number of different impacts on your organisation. As shown below, our clients have demonstrated improvements in critical business outcomes such as work performance, involuntary turnover, training outcomes and career progression.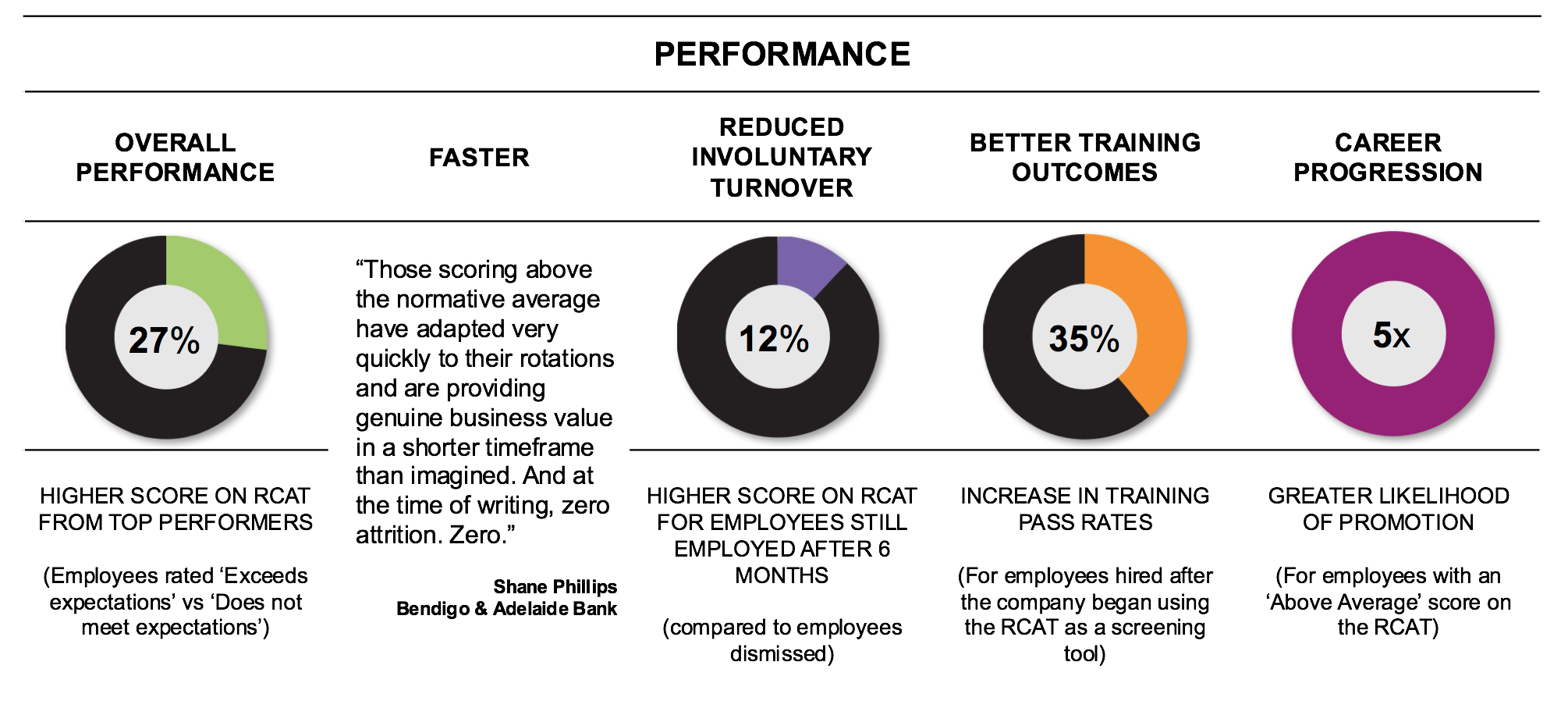 All of the case studies contributing to these findings are available at the bottom of the page, or you can view them here:
Case study: telecommunications provider predicts performance of call centre staff
Case study: federal regulatory authority predicts job performance and career advancement
Case study: Bendigo and Adelaide Bank reduces unconscious bias and makes high-calibre hires
Case study: Aviation company greatly improves training pass rates
Case study: Emergency services provider reduces compensation claims and sick days
Meta-analysis of selection methods
In 1998, Frank Schmidt and John Hunter analysed numerous studies that examined the effectiveness of different selection methods. They found that cognitive ability tests were on a par with structured interviews in terms of their predictive validity - that is, their ability to predict future work performance (column 2 below). When combined with other selection methods such as structured interviews or other tests, they provided the best overall predictor of performance at work (column 3 below).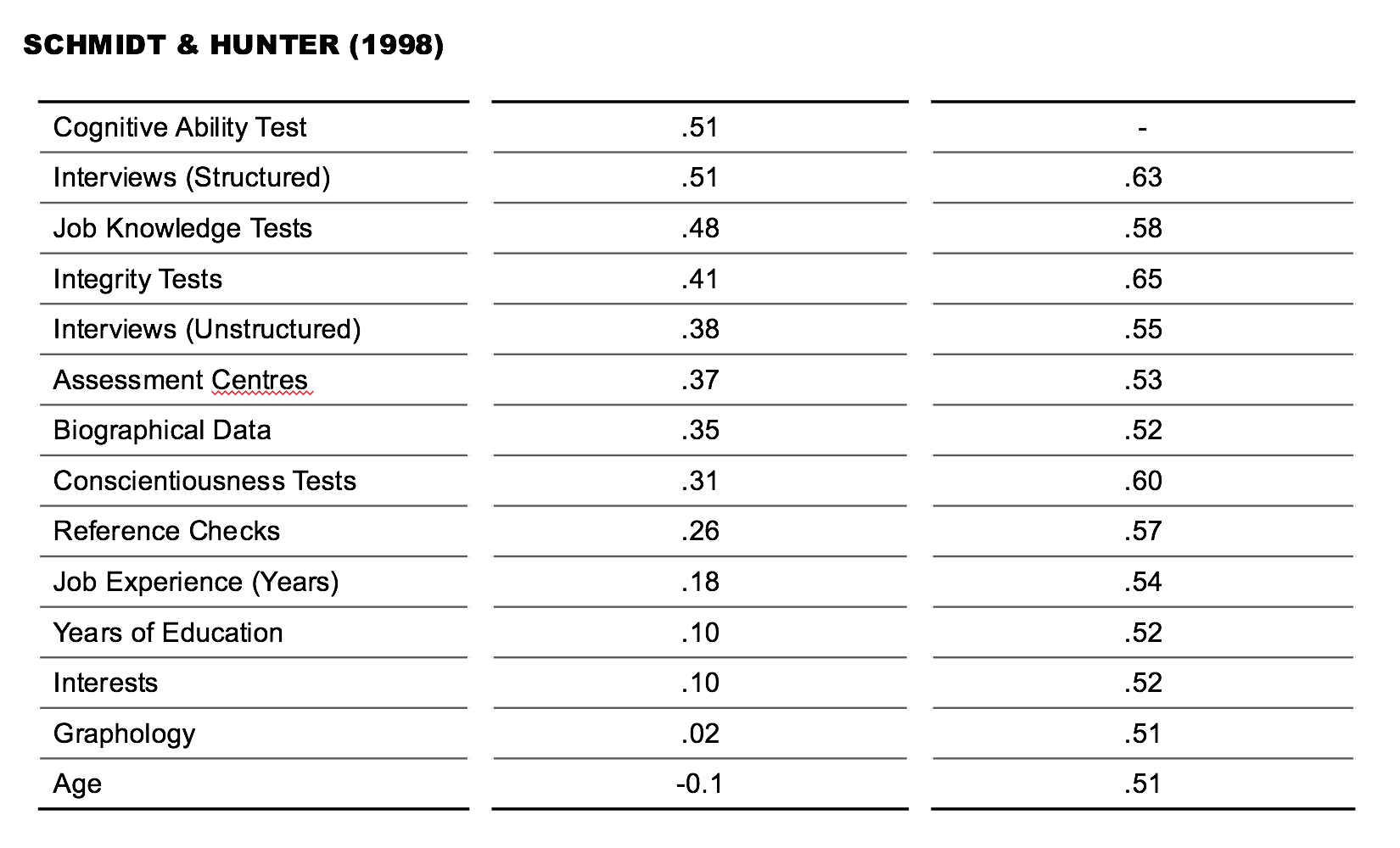 The candidate experience
The RCAT includes a mixture of verbal, numerical and abstract information processing questions. Each question requires the candidate to acquire some information from the question, and then retain, organise and manipulate that information in order to answer the question correctly.
The example questions shown below are relatively easy; most individuals get all the questions correct. In the actual assessment, the questions become more difficult as the candidate moves through the test. Questions in the assessment range in difficulty from questions that a large majority of candidates answer correctly, to questions that only a small portion of candidates answer correctly. This broad range of questions, and range of question types, means that the RCAT provides a comprehensive assessment of cognitive ability, which is applicable to a broad range of complex and less complex job roles.
Verbal reasoning
Candidates will answer a number of verbal reasoning questions in the RCAT. To do well on these questions, the candidate must absorb information and then use their understanding of that information to answer questions correctly. The simple example question below asks the candidate which two options are not alike to the others.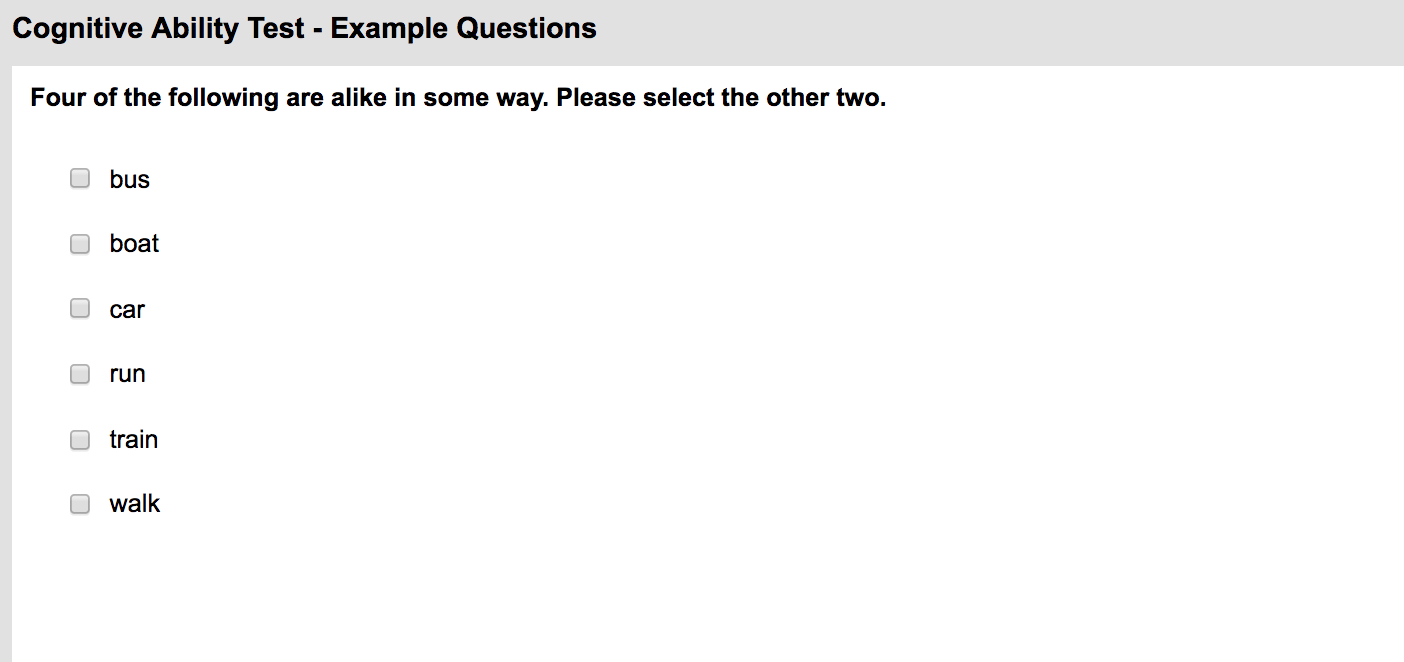 Numerical reasoning
For numerical reasoning, candidates will be asked a number of questions which assess how accurately and how quickly they can respond to numerical questions and solve mathematical problems. The simple example question below requires the candidate to analyse the number pattern and enter the missing number.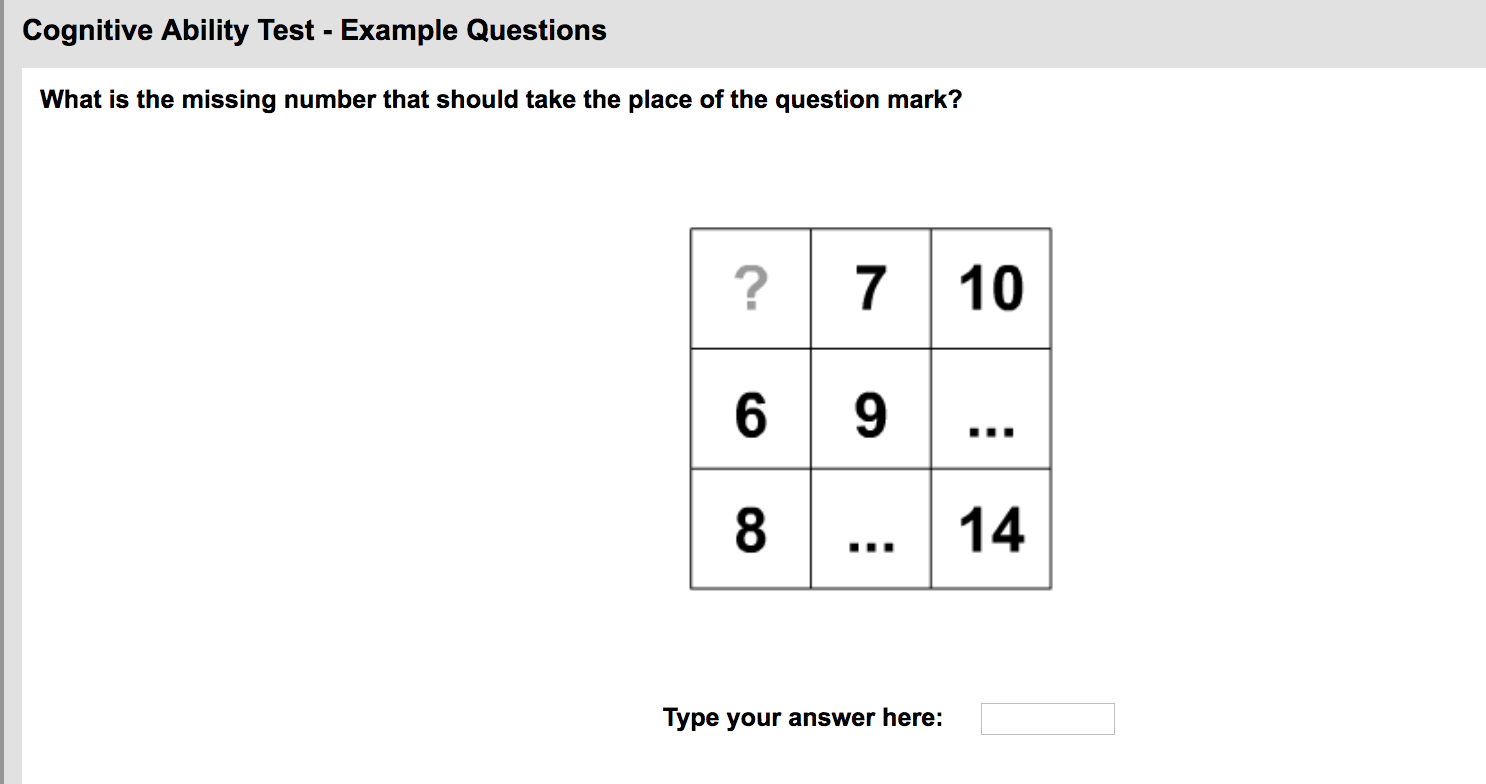 Abstract reasoning
To assess abstract reasoning, candidates will be required to solve conceptual problems by identifying relationships and analysing patterns. The simple example question below requires the candidate to examine the items and identify which two do not belong.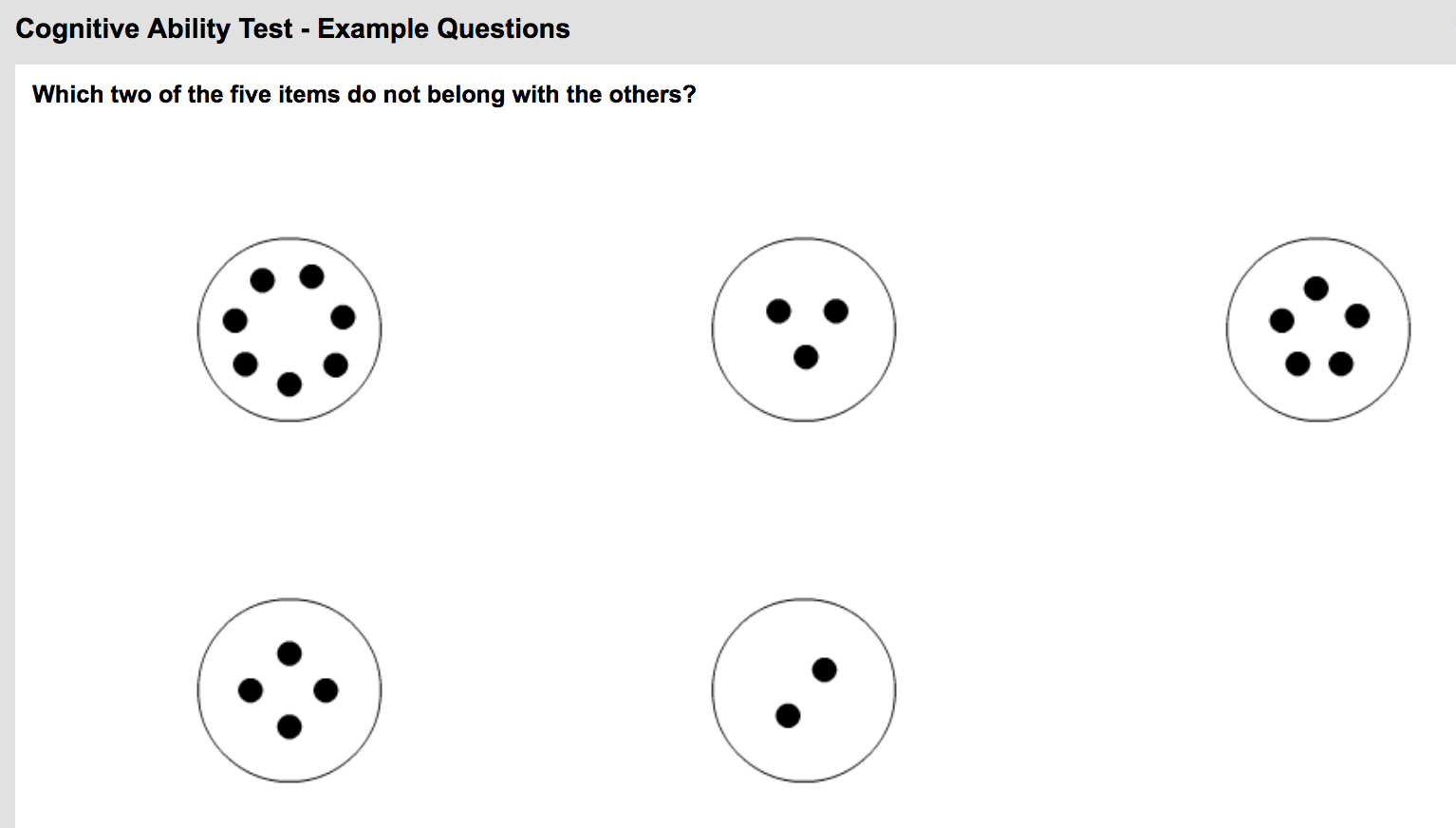 Scoring
Once candidates complete the RCAT, their raw score out of 51 is compared to one or more normative comparison groups to provide you with percentile scores, that indicate how their scores compare to those of the selected normative groups.

Normative comparison groups
Depending on your configuration, you may be able to compare your candidates to one or more of the following normative groups:
General population - individuals from a broad range of industries and management levels
Industry - includes groups such as accounting & finance, call centre, clerical & administration, engineering, marketing, resources, sales, trades.
Management level - includes apprentices, graduate, entry-, mid- and senior-level management
Company benchmark - a benchmark of your own employees, which can be selected from a specific department, location or role.
Reports
Individual report
You'll usually receive a candidate's RCAT report within around 10 minutes of them completing the assessment. Depending on you configuration, you may receive a summary version of the report (which includes a link to the full version) or the full version of the report. The content below refers to the full version.
Position report
You may also receive an overall position report that allows you to compare all of your candidates' performance on the assessment.
Candidate feedback reports
Unless you specify otherwise, your candidates will receive a feedback report as soon as they complete the assessment. This report contains a high level overview of the candidate's cognitive ability score, but does not provide them with any information about how other candidates for the same position have performed.
Please don't provide copies of the individual or position reports to your candidates. They contain content, or links to content, about the performance of other candidates and how the candidate ranks against them, so it's not appropriate to provide this information to candidates. The only report that is suitable for candidates to view is the 
feedback report
, which they'll receive automatically once they complete the assessment.
Overall results (individual report)
Candidate percentile scores are placed into one of five performance classifications, ranging from Far Below Average to Far Above Average.
As you can see below, the candidate has achieved a raw score of 28 out of 51. This score is then compared to the comparison groups shown below and given a percentile and classification.

Score verification
If a candidate has experienced technical problems during their RCAT assessment, or you want to verify their original score, you can invite them to complete a second version of the test with different questions, matched in format and difficulty to the original test.
In most cases, the candidate will achieve the same score, or a higher score due to practice effects. In this instance, the letter V will appear beside the candidate's score in the report and the report will indicate that their score has been confirmed, as shown below.

In very rare cases, the candidate will achieve a lower than expected score on their second test. If this happens, you'll be notified that their score has not been verified and given a list of possible reasons for the score decrease, which you can investigate further with the candidate. The report will also include this information, as shown below.

Drawing meaningful insights
The graphic below helps you understand what kinds of behaviours you can expect from candidates based on their score on the RCAT.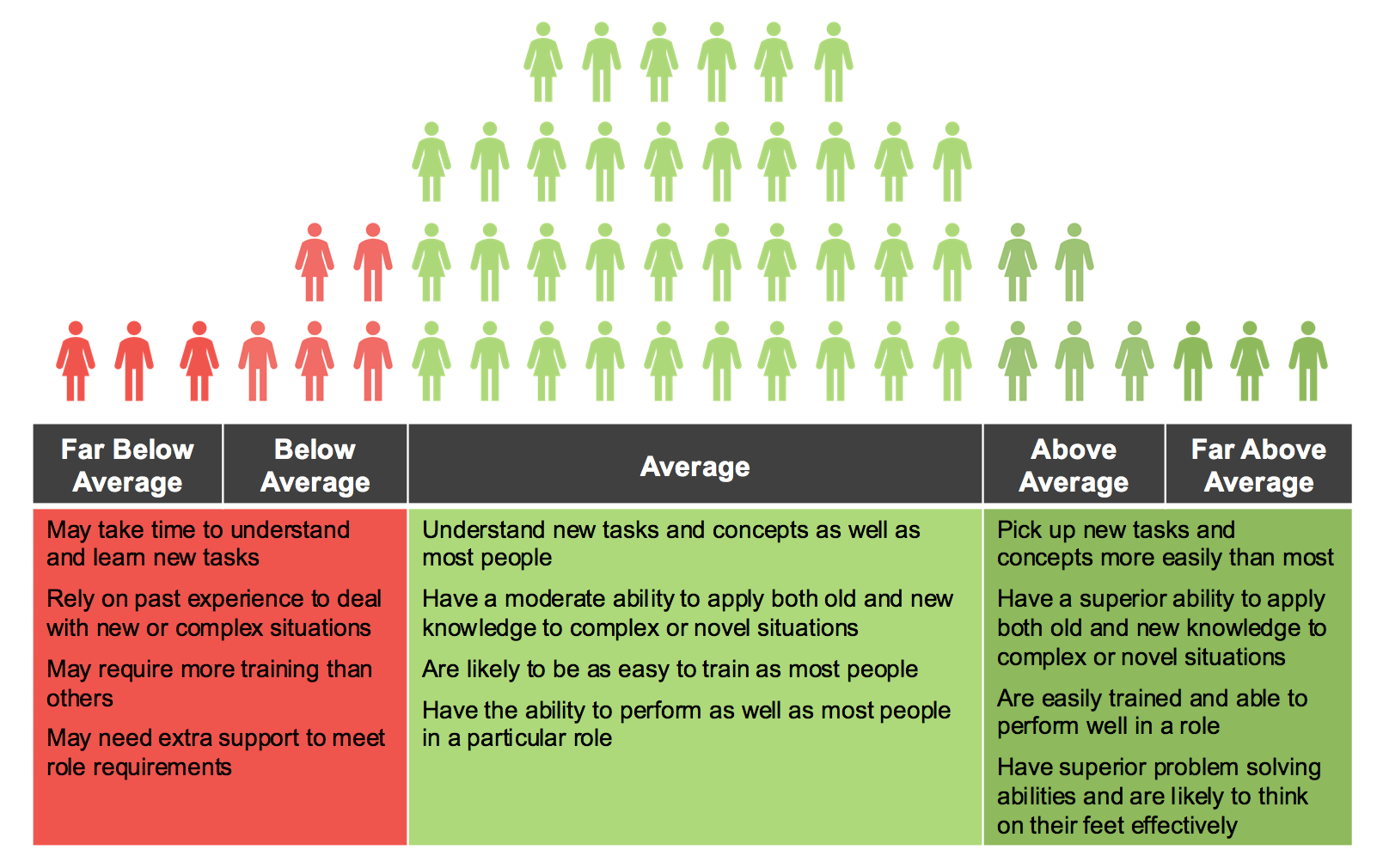 Considerations
Although cognitive ability tests are accurate, a candidate's results may be influenced by such things as the environment in which the test was taken and their comfort with the testing process. Therefore, the candidate's test score should be considered as an approximation of their level of cognitive ability.
It is important to note that this assessment requires a year 10 level of Australian English. The results of candidates who do not possess a year 10 level of Australian English may be adversely affected by their English proficiency. In such cases, the candidate's score will reflect a combination of their English skills and cognitive ability, and will not provide an accurate approximation of their level of cognitive ability.
Additional RCAT resources
| | | | |
| --- | --- | --- | --- |
| | | | |
| | | | |
| | | | |
| | | | Case study: telecommunications provider predicts performance of call centre staff |
| | | | |
| Case study: federal regulatory authority predicts job performance and career advancement | Case study: Bendigo and Adelaide Bank reduces unconscious bias and makes high-calibre hires | Case study: Aviation company greatly improves training pass rates | Case study: Emergency services provider reduces compensation claims and sick days |
---
---