Work Safety Assessment | Revelian Platform
The Revelian Work Safety Assessment (RWSA) measures candidates' safety attitudes and behaviours. Research shows that regardless of policies, procedures and training, some people are still more likely to behave unsafely at work than others, which puts both them and their colleagues at risk.
The safety assessment helps you to identify people who are more likely to behave safely at work and encourage others to do the same.
Measure safety attitudes and behaviour

Assess the beliefs and attitudes an individual has toward safety at work.

Predict likelihood of accident or injury

Identify propensity to work safely, avoid risk and take responsibility for safety outcomes.

Short or long form available

The short form comprises 49 questions, and the long form comprises 77 questions.

Time

This assessment can be completed in 10 to 15 minutes (untimed).
Request a demo
You can try the assessment for yourself. Simply request a demo here.
Please note: Demos are un-scored and a report will not be generated.
Work Safety Assessment training
Watch our consulting psych led Work Safety assessment training video to learn everything from what Work Safety predicts and measures to understanding your report to what the candidate experiences when completing the assessment.
Safety behaviour
Research tells us that regardless of environmental factors like risk minimisation strategies, policies & procedures and training, 90% of safety incidents stem from human error, and that high-risk people are inherently more likely to behave unsafely at work. The Work Safety assessment has been proven to accurately identify people who are more likely to behave safely at work and:
Follow safety procedures
Comply with safety rules
Take personal responsibility for their own and others' safety
Be alert to behaviour that could compromise safety, and
Avoid unnecessary risks at work.
This in turn leads to a broad range of specific behaviours in the workplace, such as the examples shown below.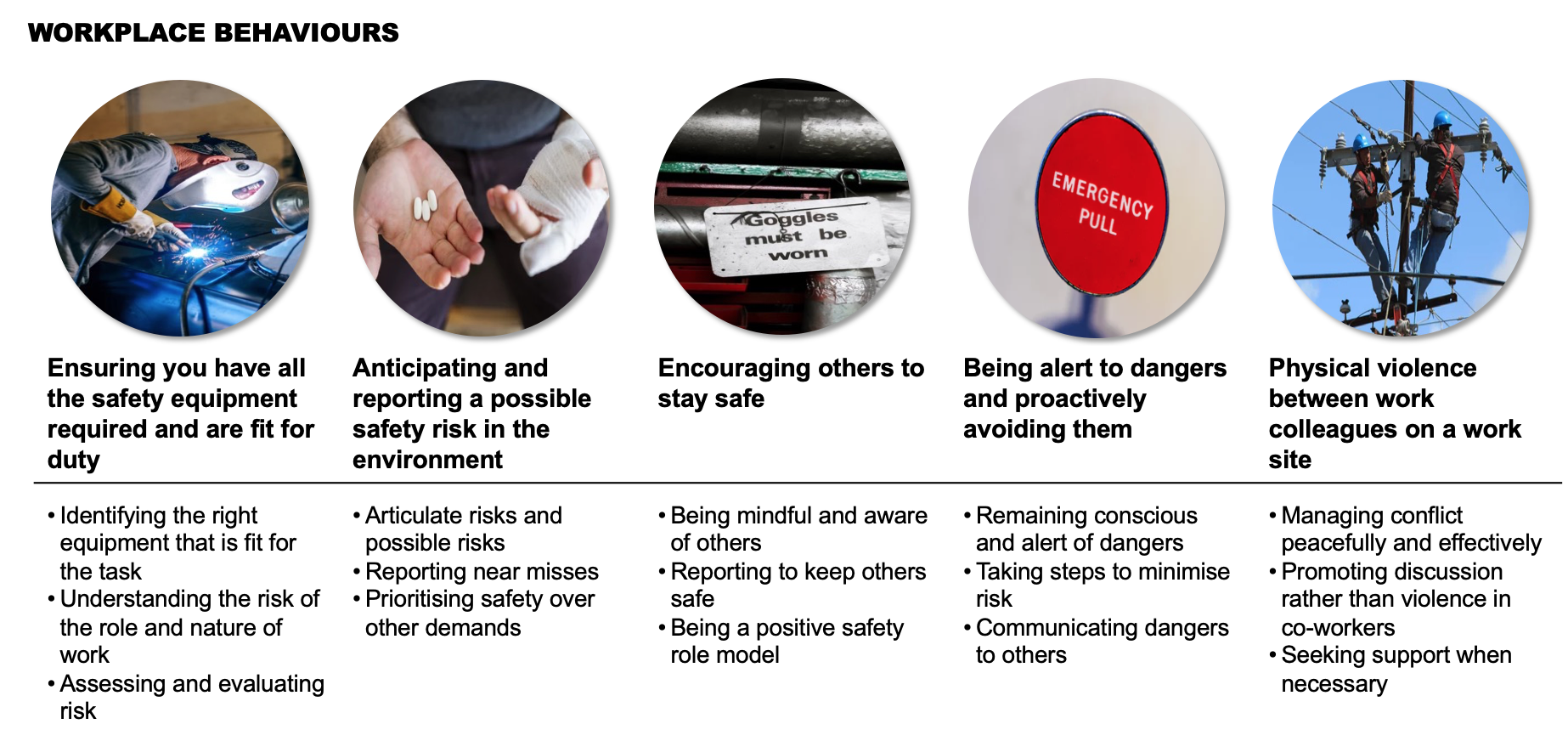 Business impacts
Identifying people who are more likely to behave safely impacts a number of important metrics, such as compensation claims, MTIs and LTIs and unplanned absences.
Case study 1: Transport and logistics company
Upon analysing each employee's safety record, we discovered that compared to employees deemed 'low risk' due to their performance on the RWSA, the 'high risk' group had experienced: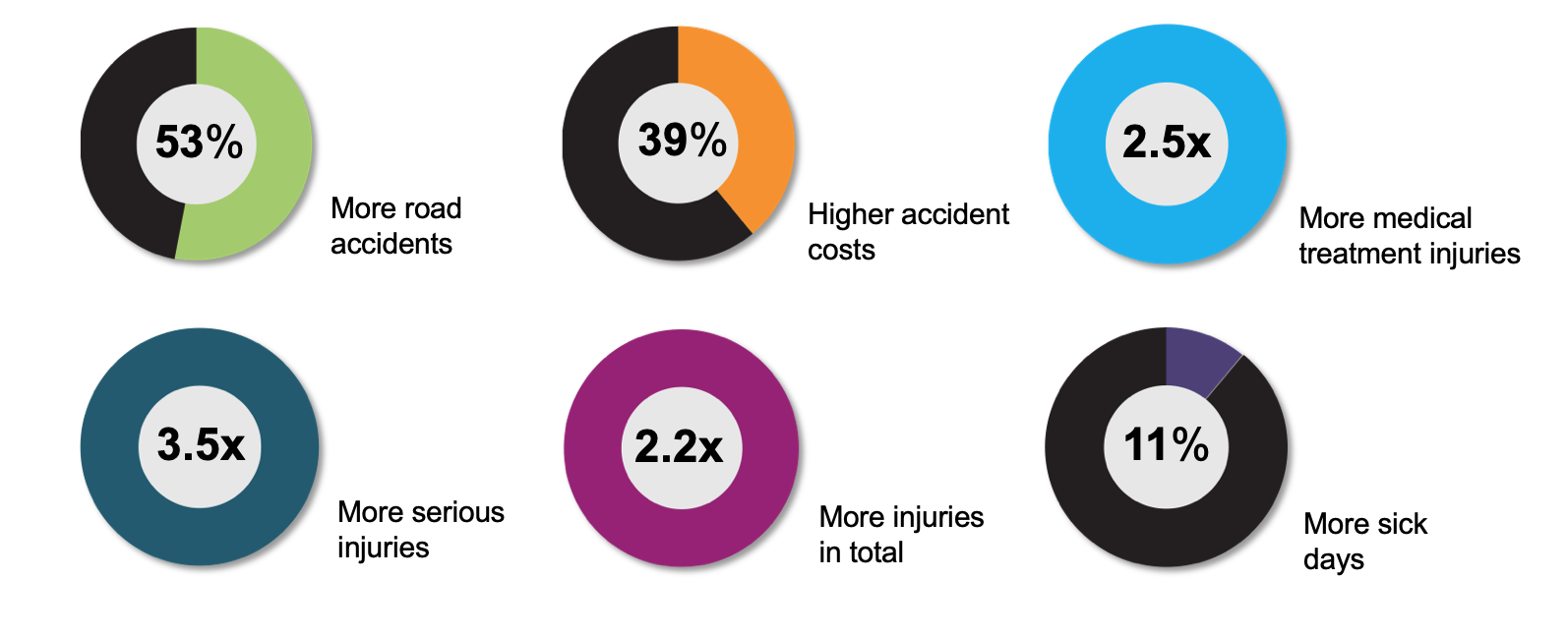 Case study 2: Heavy machinery supplier
Employees whose RWSA scores placed them in the 'high risk' category were responsible for a disproportionate number of incidents, and were costing the business much more than 'low risk' employees.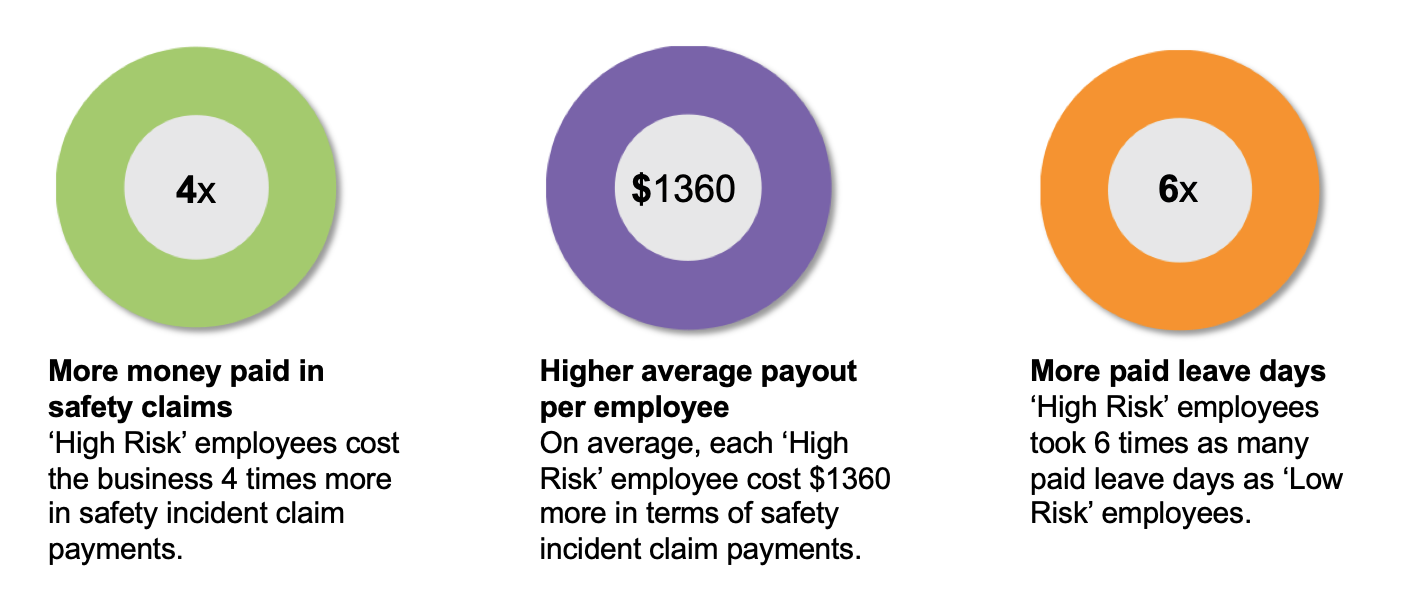 Additional case studies
Reduced compensation claims and sick days: Emergency services provider
'High risk' employees responsible for more work accidents, MTIs and LTIs: Mining & construction company
The safety model
You can choose between 2 different versions of the assessment:
The short form assesses safety across 3 different factors: safety control, risk aversion and stress management. It has 49 questions, and takes candidates around 10 minutes to complete.
The long form includes an additional 2 factors: drug aversion and attitude towards violence. It has 77 questions in total, and takes candidates around 15 minutes to complete.

Safety factors
1. Safety control
Measures the extent to which a person takes responsibility for their safety at work.
A high scorer would feel that they can control whether accidents occur or not, while a low scorer would feel that accidents will happen regardless of their behaviour, so there's little point in complying with safety rules and procedures.

2. Risk aversion
Measures a person's tendency to behave cautiously and avoid taking risks.
Someone who is highly risk averse is likely to evaluate the level of risk of different behaviours and avoid acting in a risky way, while a low scorer is more likely to seek out excitement by engaging in risky behaviour, and is less likely to consider the negative consequences of breaking rules.

3. Stress management
Measures the degree to which a person perceives that they're able to control their stress response
Even if they were stressed, someone who scores highly on the stress management factor would stay focused on safe behaviour, while someone with a low score would be less able to cope with stress, and could be more easily distracted. They're also more likely to suffer from fatigue, which could result in slips, errors and injuries.

4. Drug aversion (long form)
Measures the degree to which a person has avoidant attitudes towards drugs and regards legal and illegal drug use as wrong.
A highly drug averse person is less likely to use drugs (both legal - such as alcohol, and illegal - such as marijuana) or suffer the negative effects of drug use. A low scorer is more likely to condone the use of drugs and potentially be affected by drugs while at work.

5. Attitudes towards violence (long form only)
Measures the degree to which a person avoids violent behaviour.
Someone with a high score on the attitude towards violence factor would tend to avoid violence and view it as an inappropriate response to confrontations or disagreements. Someone with a lower score would be less able to control their responses to such situations and more likely to engage in violent behaviour, and see it as an acceptable response to certain situations.

The candidate experience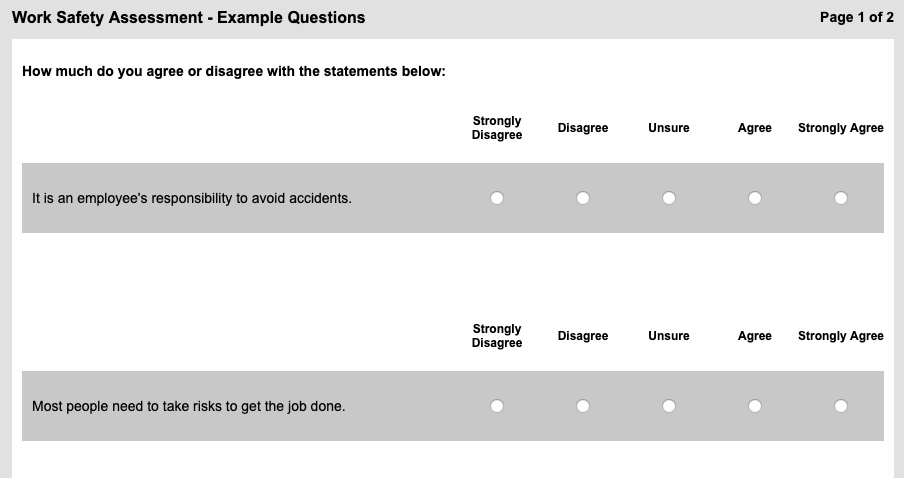 When candidates complete the test, they're asked to choose from 5 responses for each question, which could range from 'Strongly agree' to 'Strongly disagree' or 'Definitely Not' to 'Definitely Yes', depending on the question.
The questions examine a range of different points of view, including:
How the candidate views themselves
What they believe others do - what 'typical' or 'normal' behaviour looks like
How they perceive their environment.
Based on their responses across these 3 viewpoints, we can derive a reliable indication of their level of safety risk.
Scoring
Once candidates complete the RWSA, their raw score (out of 49 or 77) is compared to one or more normative comparison groups to provide you with percentile scores, that indicate how their scores compare to those of the selected normative groups.

Normative comparison groups
Depending on your configuration, you may be able to compare your candidates to one or more of the following normative groups:
General population - individuals from a broad range of industries and management levels
Industry - includes groups such as engineering, logistics, production & process, resources, trades.
Management level - includes apprentices, graduate, entry-, mid- and senior-level management
Company benchmark - a benchmark of your own employees, which can be selected from a specific department, location or role.
Reports
Individual report
You'll usually receive a candidate's RWSA report within around 10 minutes of them completing the assessment. Depending on you configuration, you may receive a summary version of the report (which includes a link to the full version) or the full version of the report.
Example long form individual report - full version
Example long form individual report - summary version
Example short form individual report - full version
Example short form individual report - summary version.
The content below refers to the full version of the individual report.
Position report
You'll also receive an overall position report that allows you to compare all of your candidates' performance on the assessment.
Example long form position report
Example short form position report
Candidate feedback reports
Unless you specify otherwise, your candidates will receive a feedback report as soon as they complete the assessment. This report contains a high level overview of the candidate's safety score, but does not provide them with any information about how other candidates for the same position have performed.
Example long form feedback report
Example short form feedback report
Please don't provide copies of the individual or position reports to your candidates. They contain content, or links to content, about the performance of other candidates and how the candidate ranks against them, so it's not appropriate to provide this information to candidates. The only report that is suitable for candidates to view is the feedback report, which they'll receive automatically once they complete the assessment.
Overall results (individual report)
Candidate percentile scores are placed into one of five performance classifications, ranging from Far Below Average to Far Above Average.
As you can see below, the overall score is compared to the comparison groups shown below and given a percentile and classification.

Safety scores (long form)
If you're using the long form, you'll also see the candidate's scores across each of the five risk factors as shown below, which can help highlight areas of relative strength or weakness.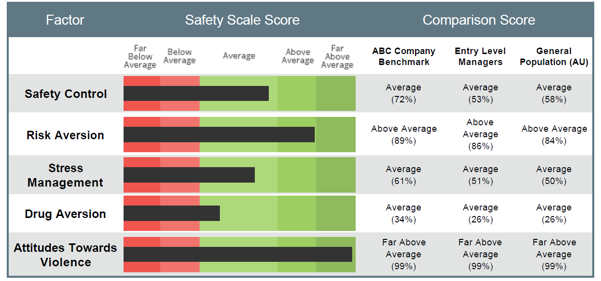 Validity checks
As a self-report measure of safety behaviour, candidates can be tempted to answer in the way they think is most suitable, or will give them a more positive result. To mitigate this, the assessment includes two in-built validity checks, that can alert you to inconsistent or overly positive responses. If a candidate achieves an invalid result on either check, they'll be invited automatically to complete the assessment again. In the rare case that they receive an invalid result again, this will be noted in the report and you'll be advised to interpret their results with strong caution, since the assessment can't accurately assess their safety behaviour.
Consistency check: checks for haphazard or inconsistent responses to ensure the candidate has understood the questions
Positive self-presentation check: identifies people who may have been deceptive when responding, or trying to present a more positive image of their behaviour than is really the case.
Example of valid result across both scales

Example of invalid result across one scale

Drawing meaningful insights
The graphic below helps you understand what kinds of behaviours you can expect from candidates based on their score on the RWSA.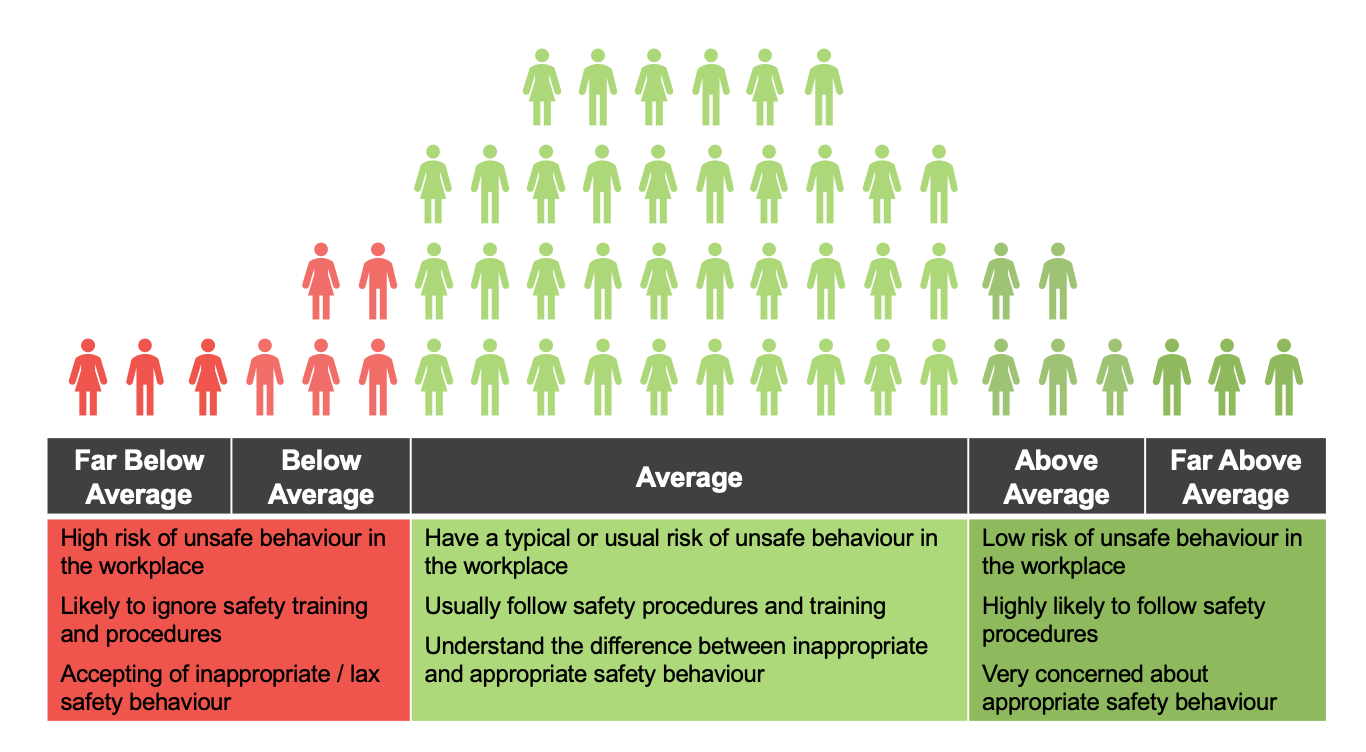 Considerations
Revelian's research shows that people who score more highly have fewer accidents and injuries at work, while people scoring in the bottom 20% are more likely to have a disproportionately high number of accidents and injuries at work. For this reason, we recommend focusing on candidates with scores above the 20th percentile.
It's important, though, to keep in mind that the relationship between test scores and incidents is based on probabilities. So while the probability that a high scoring person will suffer an accident or injury is low, the probability never reaches zero, so we always recommend using the safety assessment in conjunction with all other information you have about a candidate.
It's also important to keep in mind that while the safety assessment gives you a useful indication of a candidate's safety behaviour, other factors like the working environment and your policies and procedures also play a large part in creating a safe workplace.
Additional RWSA resources
| | | | |
| --- | --- | --- | --- |
| | | | |
| | | | |
| | | | |
| | | | |
| | | | |
| | | | |
| | | | |
| Case study: 'high risk' employees responsible for significantly more safety incidents (transport & logistics company) | Case study: 'high risk' employees responsible for more accidents, MTIs and LTIs (mining company) | Case study: 'high risk' employees responsible for higher safety claims and paid leave days (heavy machinery supplier) | Case study: Reduced compensation claims and sick days (emergency services provider) |
---
---