About the Workplace Insights Report
Talent Insights is only available to customers on a Professional or Enterprise subscription plan. If you'd like more information, please contact your
Customer Success Manager
and we'll organise a demo for you.
The Workplace Insights Report provides an overview of an individual's personalised results from completing the Employee Personality Profile. The report helps individuals heighten their self-awareness, identify opportunities for growth and development, and understand how to relate better to others in the workplace.
Traits
When people complete the personality assessment, we compare their personality across ten traits to the general population of other people who have completed the assessment. These traits are:
Achievement
Assertiveness
Competitiveness
Conscientiousness
Cooperativeness
Extroversion
Motivation
Openness
Patience
Self-Confidence
Notable traits
A person's notable traits are those with a score furthest away from the general population. These traits are likely to be the most prominent or noticeable in that person, since their results are the most different to those of the general population. They're often the kinds of traits that people who know an individual well would name as their most distinctive characteristics.

Understanding the spider graph
The spider graph shows where the individual scored for each of the ten traits, in relation to the general population, which is indicated by the darker dotted line in the graph. When the graph plot is near the edge, this indicates that the individual has scored high in a trait; when the graph plot is closer to the middle, this indicates that the individual scored low in that trait compared to the general population.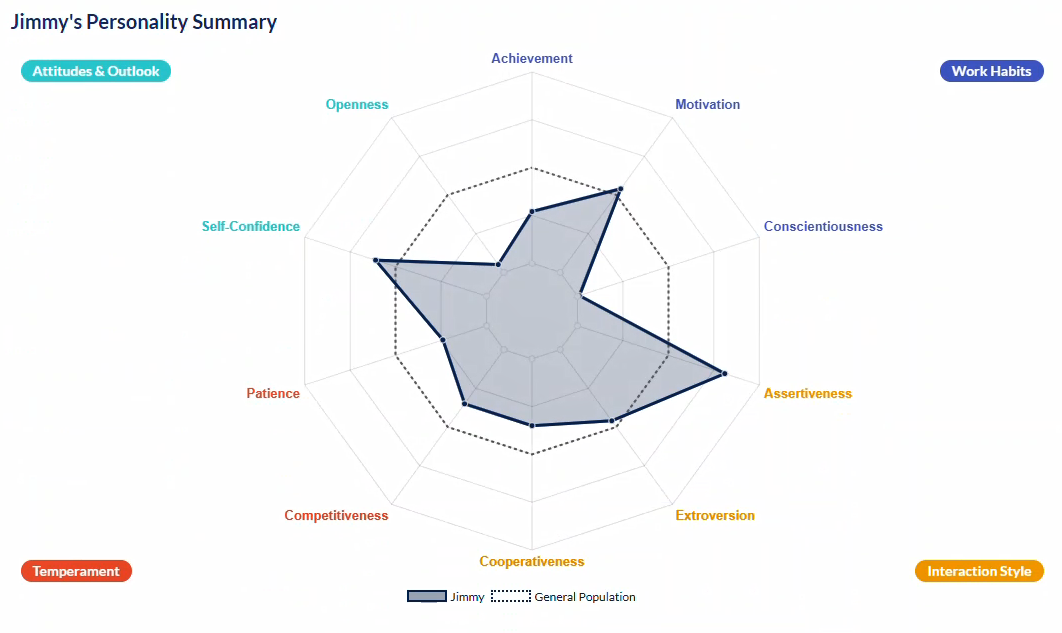 In the example above, Jimmy scored highly in Self-Confidence, Motivation and Assertiveness and low in Patience, Openness and Conscientiousness.
Viewing other team members' Workplace Insights Report
Users have the option to share their Workplace Insights Report with everyone in their team, their team leads only, or to make their report not visible. This report will only be visible to you if the user has elected to share it.
Click here for instructions on updating your privacy and visibility settings.
Are the personality profiles in Talent Insights an accurate reflection of me/my teams?
Talent Insights uses Criteria's Employee Personality Profile (EPP) to generate a profile of individuals and teams. The EPP has been extensively validated and results have also been shown to be statistically reliable, meaning that the test measures traits that are generally stable across an individual's life. When reviewing results, keep in mind that assessment results are based on responses provided by the individual or team. We always recommend you view the results in light of all available data, for example, what you know about a person's job performance and additional available metrics.
Related Articles
About the Employee Personality Profile: click here to learn more about the EPP.
About Collaboration Guides: click here to learn about collaboration guides, which are designed to help you work better with your colleagues.
Sharing Your Workplace Insights Report and Collaboration Guide: click here for instructions on how to share your reports with others in your team.
---
---