Managing Result Notifications
You will be automatically set up to receive emailed copies of the score reports for every new job you create. However there are a couple ways to manage your notification preferences. 
Global change
You can click the user avatar in the upper right-hand corner of the platform and select "User Preferences" to adjust your notifications across all jobs that you have access to. Here you can adjust your preferences to be: 
Send me score reports – you will be sent the full report for every candidate that takes an assessment for any jobs you have access to.
Send me Candidate Summaries - you will be sent a summary for every candidate that takes an assessment for any jobs you have access to.
Send me a Notice – you will be sent an email letting you know a candidate has completed their event, but not their score report data.
Do not notify me – you will not be notified upon test completion. 
Job specific change
You can individually manage notification preferences for each job you have access to. You can adjust these by going to the Jobs page and clicking the bell icon to the right of the job. You have the following options: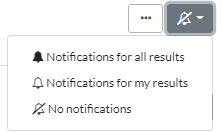 "My Results" are results for invitations that you sent out to candidates. "All Results" refers to any results in the jobs that you have access to, whether you sent the invitation out or another user sent it to the candidate.
If you do not see the bell icon next to a job in your account, this means you have not had the job shared with you. If you'd like to receive notifications for this job, you can navigate to the job settings section and add yourself to the list of people in the "Sharing" section. 
To do this click the More Actions ... button and select "Edit".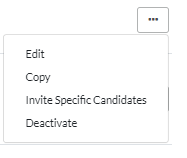 Under Candidate Management, in "Sharing" click "Edit" and add your name.

Click "Save".

Admin users
Admin users can bulk update the notification preferences for any user in your Criteria account.
Click on the Settings (avatar) icon in the top right and select Users from the dropdown.

Click ... Actions next to the user to be updated and select "Change Notification Preferences" from the menu.

There are two options.

Tick the "Use same notification preference for all jobs below" box and select the option for all jobs shared with the new user.

Select the notification preferences by job.

Click "Save".
---
---