Introducing Live Interviewing!
Ready to 2x your chances of making a great hire? With the launch of Live Interviewing, harness the power of structured interviews for every candidate interaction – whether it's a phone screen, online, or face-to-face interview.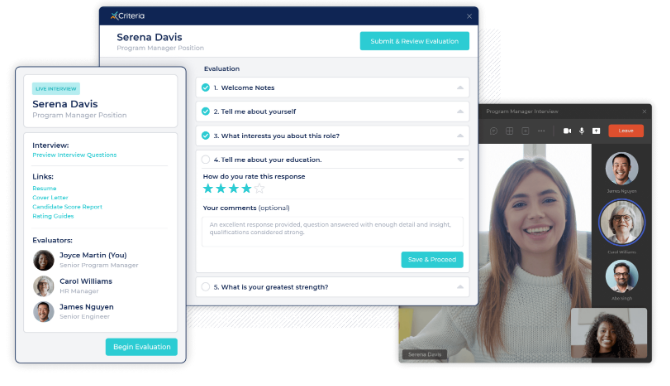 Structured interviews are 2x more predictive of job performance than unstructured interviews. By switching to structured interviews, you can reduce bias and enhance DEI, improve your quality of hire, boost employee performance, and ultimately drive bottom-line results across the organization.  
With Live Interviewing, you can:  
Ask great questions that evaluate candidates accurately  
Select questions that target competencies and behaviors critical to the success of your job and collect reliable data that is 2x more predictive than unstructured interviews  
Empower hiring managers and level the playing field  
Interview guides ensure a consistent experience for each candidate, instilling fairness and objectivity throughout the interview process.   
Deliver an exceptional candidate experience  
Ensure a transparent and objective assessment where candidates feel confident in being evaluated fairly. This leads to higher candidate satisfaction and reduced candidate drop-off.  
Strengthen the talent signal with candidate insights in one place  
Get the strongest talent signal by employing a complete end-to-end set of candidate evaluation tools when you use Live Interviewing with Criteria assessments and asynchronous video interviews.  
Make confident talent decisions  
Effortlessly compare candidates objectively and ensure the best candidate moves forward.   
Powerful, flexible, and easy  
By using Live Interviewing, you will have the confidence that your interviews are conducted consistently, and candidates are evaluated objectively. The best part? If you rely on a video tool like Zoom or Teams to conduct remote interviews, you can keep using it! Simply launch Live Interviewing alongside your preferred video tool and enjoy a seamless interviewing experience.  
Ready to 2x your chances of making a great hire?  
Live Interviewing is now available to all customers with a Structured Interviewing subscription. The Structured Interviewing subscription provides customers with access to our powerful asynchronous video interviewing and live interviewing solutions.   
Find out more or contact your Customer Success Manager to learn more. 
---
---