Using Automation to Progress Candidates to Video Interview
This tool is available as an add-on to your subscription for all Professional or Enterprise customers. If you'd like more information, please contact your 
Customer Success Manager
 and we'll organise a demo for you. 
Within the Criteria platform, you can automate certain processes to save time and enable you to focus on other tasks. When your candidates have completed their assessments, automatically progress them to the video interview stage without lifting a finger.
To do this, create a score range and apply it to the job. The score range provides the parameters the system needs to know when to progress candidates.
Create score range
Click Manage in your Criteria account and select Score Ranges from the dropdown list.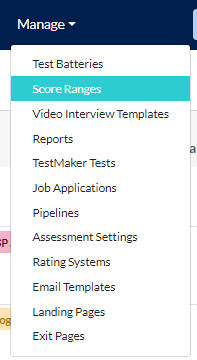 Click +Create Score Range in the top right-hand corner.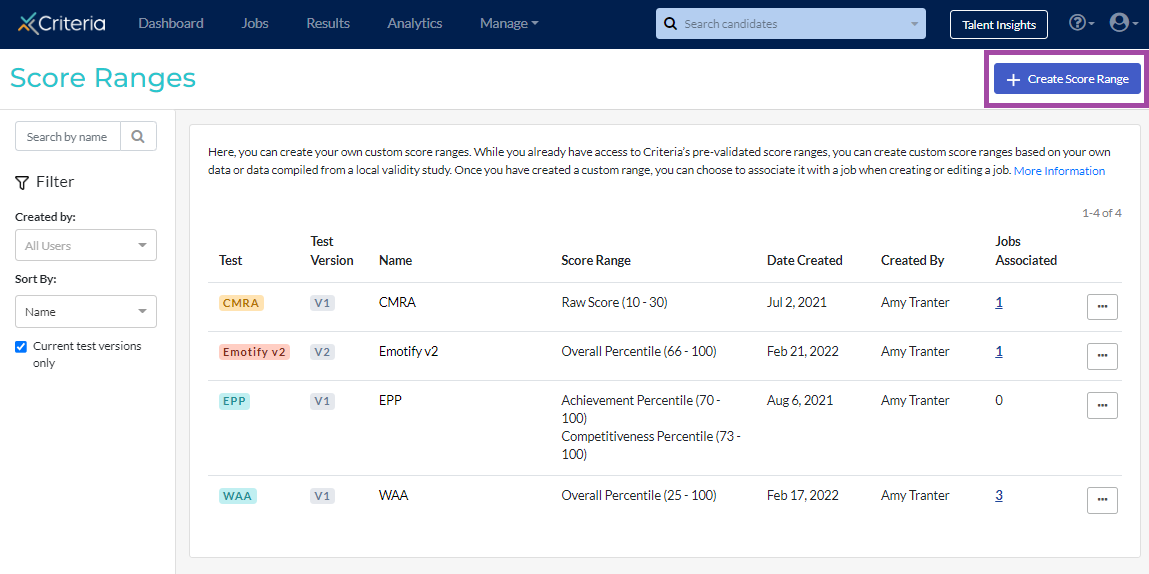 Select the test from the drop down menu and click Continue.

Name your Score Range so you can clearly identify it, then select By Overall Percentile in the Parameter drop down. 

By default, the range is set to 0 - 100. If you leave the range unchanged, you will allow any candidate, regardless of their assessment score, to be moved to the video interview stage.

If you wish to put a threshold in place for a candidate to meet, simply click and slide the 0 to the relevant score on the scale. For example, if you want all candidates who meet the 50th percentile mark and above to progress to the VI stage, then move the 0 to 50 on the scale.

Click Edit next to N Jobs.

Select or deselect the jobs you want to apply this Score Range to. Click Select Jobs.

Click Save Score Range.  
Apply the score range to the job
Once you have created your job, go to the Job Settings page.
Go to Candidate Management and click Edit next to Pipeline & Automation.

Click Testing in the relevant pipeline stage. 

Within the test battery area, select the score range you set up earlier.

Scroll down to Set Automated Rules and click +Add a Rule. 

Select the test from the dropdown menu and to move the candidate to the pipeline stage containing the video interview.

Click Add Rule and Save. 

You can return to this screen later to review and modify the rule if required.

You'll now see a new icon in the assessment stage to indicate that an Automation Rule has been applied.  
Next Steps
Interested in learning more about using automation to help you manage other tasks? Click here for more information!
Now that your job is set up, you are ready to add and invite your candidates to complete the video interview.
Click here to view more information about using video interviews.
---
---